Same Day Music is an
authorized Garritan dealer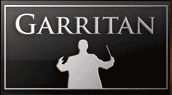 The Garritan Jazz & Big Band 3 is a high-quality Jazz and Big Band instrument collection. More than 75 instruments, including a comprehensive saxophone collection, brass instruments with various mutes, woodwinds, Steinway Piano, guitars, organs, acoustic and electric basses, an electric piano, drum kits, and other instruments.
ARIA instrument player included
The entire Jazz & Big Band library is integrated with the ARIA Instrument Engine and works as a virtual instrument. No need to purchase a separate sampler.
Ensemble building and doubles
Garritan Jazz & Big Band provides multiple individual instruments from which you can build your own jazz ensembles and big bands. This is the key to realistic imitative style. The library can be used to construct solos, duos, jazz trios, quartets, jazz ensembles, or a full big band. There are keyswitched doubles and combinations so players can switch instruments quickly.
Performance controls
The controls in Garritan Jazz & Big Band allow you to shape the articulation and jazz techniques. Just load your instruments and play. Standardized controls allow you to become familiar with the library and master the various instruments. Advanced functions, such as shakes, fall offs, tongue slurs, and auto legato help you produce more realistic-sounding performances.
Universal format
Garritan Jazz & Big Band supports all popular formats, both Mac and PC, either as a standalone program or as a plugin (VST, RTAS, and OS X Audio Units) and works with supported notation programs. An entire big band can be loaded on a single PC or laptop.
Instrument List
- 16 Saxophones: Sopranino saxophone, Mezzo Soprano sax, 3 Soprano saxophones, 3 Alto saxophones, C Melody saxophone, 3 Tenor saxophones, Baritone saxophone, Bass saxophone, Contrabass saxophone, Subcontrabass saxophone
- 6 Trumpets (with mutes): 5 Bb Trumpets (including scream trumpet), Open, straight mute, cup mute, Harmon mute, bucket mute
- Flugelhorn
- 4 Tenor Trombones (Open, straight mute, cup mute, Harmon mute, bucket mute)
- Bass Trombone
- 5 Trombones (with mutes):
- 6 Additional Winds: C Flute, Piccolo & Alto Flute, Bb Clarinet, Bass Clarinet, Tuba
- 10 Keyboards: Steinway B grand piano, Vintage electric piano, 6 Organs, Jazz Accordion
- 3 Guitars: 2 Electric guitars, Acoustic guitar
- 8 Basses: 2 Upright acoustic basses, 2 Fretless electric basses, 2 Fretted electric basses, 2 Slap basses
- 6 Drum Kits: Classic Stick kits, Fusion Stick Kit, Brush kit, 3 General MIDI kits, Vibraphone (hard and soft mallets)
- Wide variety of percussion including Latin percussion, bongos, congas, timbales, wood blocks, bells, etc.
- Percussion: Variety of Doubles and Combinations
Same Day Music is an authorized dealer of
Garritan
products.
System Requirements
- 3.5 GB of free hard disk space.
- DVD-ROM drive required for installation.
- PC: Windows 7, Vista or XP, 1.8 GHz Core Duo CPU or better.
- Macintosh: OS 10.5 or higher, Core Duo Mac Intel or better.
- Hard drive speed of at least 7200 RPM.
- A sound card compatible with ASIO (PC) or Core Audio (Mac).
- A MIDI or USB interface may be required if using an electronic keyboard. A full-size keyboard with Mod Wheel and assignable controllers is highly recommended.
- To play an entire big band, we recommend 2 GB of RAM or more.
Same Day Music is an authorized dealer of
Garritan
products.