Same Day Music is an
authorized Genz-Benz dealer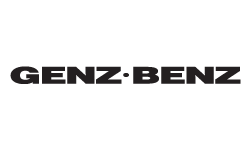 The Genz Benz Focus-LT FCS-210T is a 2x10-inch speaker cabinet with evolutionary design. This 2x10 speaker and tweeter design offers excellent focus and definition designed for use as a single cabinet or as part of a powerhouse stack with their FCS-115T. The 10-inch drivers deliver thick mid response and tight low end support with the warmth and muscle players appreciate from ceramic drivers.
FOCUS LT bass cabinets represent an evolution in cabinet design by blending progressive, lightweight cabinet construction with ceramic drivers optimized for today's player. These compact, classic configurations are available in 4 models, each developed to deliver demanding performance, tight focused bass response along with design features you would only expect from GENZ BENZ.
FOCUS LT cabinets are also great choices for matching with any of the SHUTTLE or STREAMLINER bass heads. All models offer compression tweeters, 1/4-inch and Speakon connections, 3 way tweeter level control and are as compact and lightweight as possible, yet built for the rugged demands of night-after-night touring.
Features
- 2x150 Watt 10-inch Loudspeaker and Compression Tweeter
- 1/4-inch and Speakon Inputs
- 3 Position Tweeter Level Control
- Reinforced Multi-layer Plywood Construction
- Heavy-duty Metal Speaker Grille with Port Radius
- Metal Recessed Bar Handles
Same Day Music is an authorized dealer of
Genz-Benz
products.