Same Day Music is an
authorized Genz-Benz dealer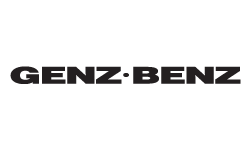 The Genz Benz Uber Quad is named after its unique four-speaker design. This compact "multi-driver" cabinet features four separate drivers of varying sizes, which produce an incredible three-dimensional tone.
The Genz Benz GB1288T-UQ Uber Quad is a multi-driver cabinet is excellent for bassists using "extended range" 6- and 7- string instruments. It has a signature tone however, that is ideal for any bassist looking to add a new element of depth, warmth and clarity to their tone. The all important mid range is handled by the dual 8" Neodymium speakers in separate, sealed internal enclosures providing thick, tight, warm mids without "honk" or harshness. These separate chambers are extremely compact which enhances the response and tight suspension of the driver's mechanical performance.
This 600-watt, 8-ohm cabinet sounds great on its own but can be an impressive stack when using two Uber Quads, or when stacked with Genz Benz's new GB115T-UB.
As part of the Uber Bass series the cabinet features the distinctive "nubby" vinyl along with the classic grille and silver piping, Edge-Lift handles, Speakon and 1/4" inputs, 100-Watt Tweeter Level control and crossover design based on a combination of electronic and electro-acoustic principles. This yields a combination of crossover slopes that result in smooth multi- dimensional composite acoustic response.
Genz Benz GB1288T-UQ Uber Quad Features
Cabinet Crossover
All Genz Benz bass cabinets offer 1/4" and Speakon connections, along with a variable tweeter level control for flexible connection options and additional tone shaping.
- Parallel Inputs - Two 1/4" full range inputs are provided. Either one may be used for input from the bass amp. Use these two inputs when 'daisy-chaining' 2 cabinets together.
- Full Range Speakon Input - They recommend using this input with the appropriate cable when connecting to a high powered bass amp - 400 watts or more.
- Tweeter Level Control - This controls the amount of signal to the tweeter. They recommend starting with the control at 50%. Then balance the tweeter output to the cabinet's speaker output in combination with your instrument's pickup tone and amplifier clarity.
Same Day Music is an authorized dealer of
Genz-Benz
products.
- Power Handling RMS: 600 W
- Frequency +/- 10db: 45-18K Hz
- Sensitivity 1W/1M: 97.5 db
- Nominal Impedance: 8 ohm
- Component Crossover/Freq. Ranges:
- Lows: 45-500Hz
- Mids:150-5KHz
- Highs:4K-18KHz
- Weight: 58 lbs.
- Dimensions HxWxD: 23" x 24 1/2" x 18 1/4"
Same Day Music is an authorized dealer of
Genz-Benz
products.