Same Day Music is an
authorized Genz-Benz dealer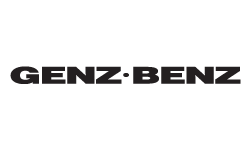 The Streamliner 600 STM-600 is Genz-Benz's 600 watt version of the Streamliner design. The Genz-Benz Streamliner 600 has a 300 volt All Tube Class A preamp design is driven by three 12AX7 preamp tubes utilizing six gain stages. The preamp design features an intuitive and highly effective tone network which is a unique blend of a modified passive Baxandall network for the bass and treble along with an active tube driven mid filter, with selectable mid frequencies. This versatile all tube preamp exudes a fat and rich tone that remains articulate. It can be used to simply add warmth to your natural tone or it can be dialed in to provide a wide range of natural tube overdrive.
Along with Genz-Benz preamp design that rivals that of many classic tube amplifiers, the Streamliner 600 also features Genz Benz's proprietary 3-Dimensional Power Management analog technology. Genz-Benz's 3DPM adds heft and girth to each individual note, while enhancing the amplifiers responsiveness and headroom. The Genz-Benz Streamliner 600 also provides the dynamic and 3 dimensional tone and feel of an all tube power amp design.
With its solid extruded aluminum panels, CNC machined solid billet aluminum faceplate and smooth-radius edges the Genz-Benz Streamliner 600 chassis emanates the ruggedness and strength of a world-class touring machine. This brushed aluminum chassis is finished in an anodized Gun Metal Blue color.
Simply put, this new design offers a more streamlined approach to finding your voice, yet it still carries forth the GENZ BENZ reputation for performance, reliability and innovation.
Genz Benz Streamliner 600 Bass Head Features
- 375 Watts @ 8 ohms; 600 Watts @ 4 ohms
- SMPS and Class D power amplifier design
- Class A Six Stage Tube Preamp (3x12AX7A Tubes)
- Modified Passive Baxandall EQ for the Lows and Highs
- Active Tube Driven Mid EQ
- Selectable 3-Position Mid Frequencies: 220, 600, 2.5K HZ
- Input Mute
- Hi Gain switch
- Master Volume
- 3DPM(TM) Power Management
- Full Direct Output Interface
- Effects Loop
- Headphone Input
- Aux. Input
- Dual Speakon Outputs
- Variable Speed Fan Cooling
Same Day Music is an authorized dealer of
Genz-Benz
products.