Same Day Music is an
authorized Gibson dealer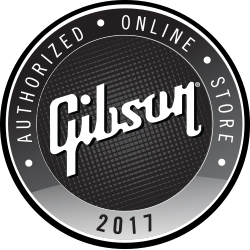 The original ES-295 was conceived as a "gold standard" jazz guitar, born in an era before rock'n'roll was a household word. But in the hands of legendary Elvis Presley guitarist Scotty Moore, it gave birth to a radical new breed of music and became a rockabilly icon in the process. Although it mostly updated the design of the popular ES-175 with an upgraded bridge and some exciting cosmetic twists, the ES-295--introduced in 1952, and purchased by Moore in 1953 at the O. K. Houck Piano Company in Memphis, Tennessee--had both the looks and the sound to inspire an adventurous new generation of players. With Scotty Moore among them, the ES-295 became the cornerstone of Elvis's sound throughout his formative Sun recording sessions and live shows.
The ES-295 Scotty Moore from Gibson Memphis recreates this Hall Of Fame guitarist's own ES-295 in exacting detail. The result is not only a rarified slice of rock'n'roll history, but a guitar whose playability, tone, and looks are sublime by any standards. Visually, the ES-295 is most distinguished by its stunning Gold Bullion finish, accurately reproduced in the ES-295 Scotty Moore in hand-sprayed nitrocellulose lacquer, treated to Gibson's proprietary VOS process for a gently aged vibe. This finish is complemented by a custom pickguard made from clear plastic, and back-painted with a period-correct floral graphic for that authentic ES-295 look. It's all topped off with Scotty Moore personally autographing each of the 81 guitars on the lower bout!
For authentic tone, a pair of Gibson's accurate vintage-style P-90 recreations give the ES-295 Scotty Moore all the twang and snarl that has made these guitars legendary, earning them a place in everything from jazz, to country, to blues, to vintage rock'n'roll. Soon after purchasing his ES-295, Scotty Moore replaced its original wraparound trapeze bridge with a Melita Synchrosonic bridge, accurately represented on this recreation from Gibson Memphis. Wrap it all in a tan vintage-style hardshell case, and the ES-295 Scotty Moore captures the look, feel, and tone of a rock'n'roll classic like no other guitar available. For a visual, tonal, and historical treat, visit your authorized Gibson Memphis dealer.
Body and Neck
The ES-295 Scotty Moore has a fully hollow body constructed in the ES-175 style, with laminated maple top, back, and sides, featuring traditional f-holes and a pointed Florentine cutaway. The arched top is supported with historic spruce braces and cedar rim liners. It has a glued-in neck made from quarter-sawn mahogany, topped with a bound dark rosewood fingerboard that is inlaid with aged cellulose split-parallelogram position markers, and the headstock is inlaid with the traditional mother-of-pearl crown.
Pickups and Electronics
A pair of Gibson's period-correct recreations of the original "dog ear" P-90 pickups give the ES-295 Scotty Moore its authentic sound. That hot, gnarly, yet versatile fat-single-coil tone has been beloved of countless guitarists since it first hit the scene in the late '40s, and is arguably the rock'n'roll tone of all time. Made with two Alnico V bar magnets in each pickup and vintage-spec coils scatter-wound with 42 AWG wire, these pickups capture every purr, snarl and roar you could want from this rock'n'roll classic, enabling it to easily cover country, jazz, and blues territory too. The standard four-knob control section of two independent volume and tone capacitors, and a three-way Switchcraft toggle switch complete the electronics.
Hardware
The ES-295 Scotty Moore carries a period-correct recreation of the traditional trapeze tailpiece and a Melita Synchrosonic adjustable bridge, just like the one that Scotty Moore added to his own guitar as an "upgrade. "Up top, Kluson single-ring tuners with butterscotch tulip buttons enhance the vintage look. Gold speed knobs, a traditional bell truss-rod cover, tan binding, and a clear pickguard back-painted with period-correct floral graphic complete the picture.
Case and Coverage
Every ES-295 Scotty Moore comes protected in an historic ES-295 hardshell case with tan exterior and plush pink lining, and includes a Certificate of Authenticity with photo each individually autographed by Scotty, owner's manual, and coverage by Gibson's Limited Lifetime Warranty and 24/7/365 customer service.
Features
- Each guitar will be autographed by Scotty Moore
- Limited to 81 units
- Vintage correct Bullion Gold color in Memphis VOS
- Exacting 1952 neck profile, Fingerboard and support
- Accurate historic colored binding
- Original style wood riser for the Bridge pickup
- Cream covered Memphis P-90 pickups
- Historically correct top bracing and solid maple sides
- Melita bridge
- Ships in a Tan and Pink Lifton style case with COA
Same Day Music is an authorized dealer of
Gibson
products.