Same Day Music is an
authorized Gibson dealer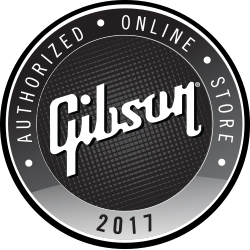 Distinctive looks and tonal possibilities make the Gibson Elliot Easton Firebird Electric Guitar a truly unique signature instrument. Visually, the attractive finish, hot-stamped Tiki graphic on a multi-ply white pickguard and Elliot Easton's signature on the headstock's back separates this axe from any other Firebird. What players will really love about the Elliot Easton Firebird is its pair of Gibson '57 Classic humbuckers with versatile coil-splitting and phase-reverse wiring for unprecedented sonic variety!
A Bigsby vibrato tailpiece with Vibramate Spoiler for easy string loading gives this guitar emotive dips and tremulous wobbles, while a TonePros locking Tune-o-matic bridge with nylon saddles offers excellent return-to-pitch during vibrato use. To top it off, a set of Steinberger gearless tuners give unparalleled tuning efficiency. Designed by Gibson USA and Elliot Easton, this signature Firebird remains true to the classic formula while adding a number of exciting features that make it a true joy to play!
Body and neck
The Elliot Easton Firebird is made in the image of the original Firebirds of 1963-'65, with lines that appeared to be the reverse image of other solidbody styles on the market. It is constructed from a solid multi-piece mahogany neck/body section, called a through neck, with glued-on mahogany body wings. The neck is carved to Elliot's preferred slim, fast Firebird profile. It is topped with a Grade-A rosewood fingerboard with traditional trapezoid inlays and 22 medium-jumbo frets.
Pickups and electronics
To fatten up the traditional Firebird tone, the Elliot Easton Firebird carries a pair of Gibson's popular '57 Classic humbuckers, long known for their blend of depth and clarity. A custom network of four slider switches mounted in the pickguard access individual coil splitting for both pickups, phase-reverse when both are used together, and Gibson's Pure True Bypass switching. The latter routes the bridge pickup directly to the output jack when engaged, for a quick preset lead tone with no loading.
The coil-split switching offers something special: wired in Gibson's 'Frequency-Tuned Coil Tap' mode, the two pickups are still reverse-wound/reverse-polarity in the center position when tapped, for hum-canceling single-coil tones, and their individual tapped tones are still hum reducing, and more accurate to boot. The remaining controls include the traditional four-knob complement with three-way toggle switch.
Hardware
Elliot's input in the hardware department takes the Elliot Easton Firebird further into the stratosphere. A genuine Bigsby vibrato is modified with a Vibramate Spoiler string loader to take the usual hassle out of restringing this beloved whammy bar. A TonePros Tune-o-matic locks down tight for enhanced resonance and sustain, with nylon saddles to avoid string hitches during Bigsby use. Finally, a set of super-efficient Steinberger gearless tuners give you the smoothest tune-up imaginable, without spoiling the radical lines of the Firebird headstock.
Elliot Easton
As a member of Boston hit-makers The Cars, and a consummate musician in his own right, Elliot Easton has consistently bridged the gap between chart success and innovative, alternative guitar playing. From early Cars singles like 'Just What I Needed' and 'My Best Friend's Girl,' to 1981's 'Shake It Up' (the band's first Top 10 hit), Elliot's creative, often quirky and frenetic riffs provided the propulsion to a driving and energetic sound--and in the process, Easton became a massively influential artist.
Features:
- Solid Mahogany body with Gold Mist Poly finish
- Multi-piece Mahogany neck with slim, super-fast Firebird profile
- Pair of '57 Classic Humbucking pickups in the neck and bridge positions
- TonePros Tune-o-matic bridge and Bigsby vibrato with a Vibramate Spoiler string loader
- Steinberger gearless tuners with 40:1 tuning ratio
Same Day Music is an authorized dealer of
Gibson
products.
- Body Type: Firebird
- Body Material: Mahogany
- Body Finish: Lacquer
- Neck Material: Multi-ply mahogany
- Neck Shape: Elliot Easton profile
- Fingerboard Material: Rosewood
- Fingerboard Inlay: Trapezoid inlays
- Number of Frets: 22, medium-jumbo
- Bridge/Tailpiece: TonePros Tune-o-matic bridge w/nylon saddles, Bigsby vibrato tailpiece with Vibramate Spoiler string loader
- Tuners: Steinberger gearless tuners
- Number of Pickups: 2
- Neck Pickup: '57 Classic humbucker
- Bridge Pickup: '57 Classic humbucker
- Controls: 2 x volume, 2 x tone, 3-way selector, 4 x switches (2 x coil split, 1 x phase-reverse, 1 x Pure True Bypass switching)
Same Day Music is an authorized dealer of
Gibson
products.