Same Day Music is an
authorized Gibson dealer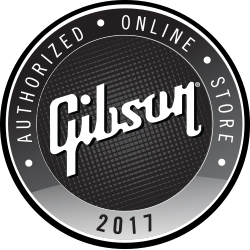 The Gibson John Hiatt J45 features the sweet tone of the best pre-War Gibson flat-tops but is a top-flight performance machine for today's professional singer-songwriter. Featuring Hiatt's own specifications of solid Sitka spruce top with the lines of the J45 round-shouldered, the John Hiatt J45 has excellent projection and is comfortable to play. Additional features are solid mahogany back and sides, one-piece mahogany neck with modified V profile and 24 3/4 inch scale Madagascar rosewood fingerboard.
Upgraded details such as advanced, scalloped X bracing, the unparalleled Fishman Ellipse matrix blend and preamp system, a bone nut and Tusq saddle all work to ensure rich, resonant tones, either unplugged or fully amplified, while a hand-sprayed nitrocellulose Triple-Burst finish, multi-ply top binding, double-ring rosette, fire-stripe pickguard, mother-of-pearl dot inlays, and John Hiatt signature engraved truss-rod cover all declare that this is a rare and exclusive instrument.
Only 100 John Hiatt Model guitars will be produced by Gibson, and each one comes with a formfitting hardshell case with plush blue lining, an owner's manual, and Gibson's Gold Warranty.
Body Species
The body's top is made from solid Sitka spruce, one of the most highly regarded woods for the soundboards of acoustic guitars. Its back and sides are made from solid mahogany, a select tonewood employed by many classic flat-top guitars.
Body Tonal Characteristics
The John Hiatt Model offers outstanding depth and complexity in the vein of the great large-bodied mahogany flat-tops. The solid Sitka spruce top presents an excellent clarity and complexity, while the mahogany back and sides add richness and complexity to the tone. All of this, and unsurpassed volume and projection, suit the John Hiatt Model to a surprisingly wide range of playing styles.
Body Design
The John Hiatt Model is designed along the lines of the large-bodied, round-shouldered J-45 dreadnought, an all-time classic that Gibson introduced in 1942. Its 16 1/4 inch-wide body produces the superior volume and full, vibrant tone that leading singer-songwriters have relied upon for nearly 70 years.
Finish Color and Process
The John Hiatt Model is finished in Gibson's luscious, timeless Triple-Burst. Gibson's acclaimed acoustic facility in Bozeman, Montana, hand finishes these guitars in nitrocellulose lacquer, which is kept to a low build-up and hand buffed to a high sheen. In addition to looking great and aging beautifully, this thin nitrocellulose finish avoids impeding of the guitar's resonance.
Neck Species
The neck of the John Hiatt Model is constructed from one solid piece of quarter-sawn, lightweight mahogany. The luthiers in Gibson's Montana plant carefully select the grain orientation of the mahogany used for necks to optimize tone and sustain.
Neck Tonal Characteristics
The wood, construction, and headstock pitch all contribute greatly to the superior resonance, sustain, and overall tone of the John Hiatt Model.
Neck Profile
The neck of the John Hiatt Model is carved to a modified V profile, as specified by the artist himself.
Neck Joint and Pitch
Gibson uses a compound dovetail joint fixed with hot-hide glue to attach the neck of the John Hiatt Model to the body at the 14th fret. This technique, traditional in cabinet making and high-end luthiery, creates a joint with superior strength to that of a single piece of wood. The joint angle (Pitch) is 3* (+/- 15 seconds).
Neck Adhesive
Hot-hide glue is used to attach the dovetail joint, which is the traditional glue used to construct many of the greatest acoustic guitars of the 20th century.
Headstock Angle (Pitch)
Just like the original J45, and many other classic Gibson models, the John Hiatt Model's headstock is carefully angled at Gibson's traditional 17 degrees. This subtle yet crucial element of the guitar's design increases pressure on the strings and helps them stay in the nut slots. An increase in string pressure also means there is no loss of string vibration between the nut and the tuners, which equals better sustain.
Truss Rod Gibson's traditional truss rod, found in nearly all of our guitars, is highly responsive to the individual adjustments you'll want to make to personalize and optimize string action and sustain.
Logo
The Gibson logo is inlaid in mother-of-pearl across the top of a traditional advanced jumbo-style headstock.
Fingerboard Species
The John Hiatt Model's bound fingerboard is made from a choice piece of Madagascar rosewood, the traditional wood used for this model.
Frets
The frets are made from Gibson Montana's standard fret wire, a medium-jumbo wire made from a nickel alloy for excellent tonal clarity.
Fingerboard Tonal Characteristics
Rosewood fingerboards have been a favorite for more than a century and are legendary for their rich, round tone, attributes that blend beautifully with the depth and dimension of the John Hiatt Model's voice.
Radius
Gibson's traditional 12 inch fingerboard radius is used for this guitar, which offers excellent comfort for both chording and single-note runs, and avoids any choked-out notes when strings are bent for blues, country, and rock playing.
Inlays
The fingerboard of the John Hiatt Model carries custom mother-of-pearl dot inlays in the traditional positions, up to the 17th fret.
Nut Width
The width of the nut on the John Hiatt Model is approximately 1.725 inches, which contributes to a roomy, comfortable fingerboard, suited to all playing styles.
Nut Material
The John Hiatt Model carries a bone nut, a traditional component of quality flat-top acoustic guitars.
Tuning Keys
The headstock of the John Hiatt Model carries six vintage-style, open-back nickel tuners, as seen on classic pre-War Gibson flat-tops.
Bridge
A traditional belly-up pin bridge made from Madagascar rosewood offers firm string anchoring and outstanding vibrational coupling with the body, while a one-piece Tusq saddle helps to keep the tone resonant and clear.
Pickup
The John Hiatt Model comes equipped with a Fishman Matrix Blend pickup.
Strap Button
The guitar's endpin jack doubles as pickup output and body-end strap button.
Plastics
The John Hiatt Model carries a blend of traditional and updated plastics, including a custom fire-stripe pickguard, classic antique-bell-shaped truss rod cover engraved with the artist's signature, multi-ply top binding and sound-hole rosette, and single-ply back binding.
Strings
Gibson's Light Gauge phosphor-bronze acoustic strings, sizes .011-.052, are installed at the factor
Same Day Music is an authorized dealer of
Gibson
products.
Body
Body Type: Round Shoulder
Top: Sitka Spruce
Back and Sides: Mahogany
Binding: Multi-ply Top Binding, Single Ply Back Binding,Traditional Double Ring Rosette
Bracing: Advanced X-Braced Top
Neck
Species: 1-piece Mahogany
Profile: Modified "V" Profile
Thickness: 1.725" at Nut
Truss Rod: Single Action
Adhesive: Premium Titebond
Neck Fit
Joint: Compound Dovetail
Construction: Joint at 14th Fret
Adhesive: Hide Glue
Fingerboard
Species: Madagascar Rosewood
Frets: 21
Scale Length: 24 3/4"
Radius: 12"
Fret Wire: Nickel Alloy
Inlays: 1/4" Mother of Pearl Dots
Adhesive: Premium Titebond
Nut
Material: Bone
Width: 1.725"
Headstock
Type: Traditional CF-100
Angle: 17 deg
Inlay: Gold Block Gibson Decal
Tuning Keys
Type: Vintage Style with Cream Buttons
Material: Nickel
Ratio: 14:1
Peghole Diameter: 11/32"
Bridge
Type: Traditional Belly Up with Tusq Saddle
Material: Madagascar Rosewood
Hardware
Pickguard: Teardrop Firestripe
Truss Rod Cover: Traditional Black with John Hiatt Signature
Strap Buttons: End Pin Jack Strap Button
Strings: .011" - .052" Gibson Light Gauge
Pickups
Model: Fishman Ellipse Matrix Blend
Volume Control: Sound Hole Mounted
Finish
Color: Tri Burst Top, Tobacco Brown Back and Sides
Sealer: Hand Sprayed Nitrocellulose Lacquer
Case
Type: Gibson Standard Hardshell Case
Case Exterior: Black Tolex
Case Interior: Blue Fabric
Accessories
Manuals: Owners Manual, Gibson Gold Warranty
Same Day Music is an authorized dealer of
Gibson
products.