Same Day Music is an
authorized Gibson dealer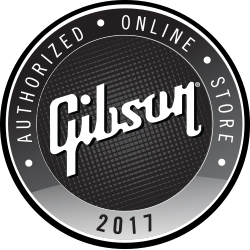 Seventy years after his birth and three decades after his untimely passing, John Lennon's message of peace continues to touch the masses, and his songs still resonate in the hearts and minds of fans around the world. At the request of Yoko Ono, Gibson Guitar is proud to offer three 70th Anniversary John Lennon J-160E acoustic guitars to celebrate the legacy of this extraordinary artist. Accordingly, only a very limited number of these handmade acoustics will ever be available.
In 1962, John Lennon was still an up-and-coming artist, and though one of two main singer/songwriters at the heart of The Beatles, was scraping by on the little money the band was bringing in at that time. For his first quality American acoustic/electric guitar, Lennon had his sights set on a Gibson J-160E - the problem was, he didn't have the money to buy it. With the aid of a co-signed purchase from Beatles manager Brian Epstein (who also co-signed for bandmate George Harrison's J-160E), Lennon made the guitar his own, and put it straight to the business of making rock and roll history. Recreated by the luthiers at Gibson's Montana acoustic guitar facility in period-perfect detail, the 70th Anniversary John Lennon models are available in three distinct versions to represent the instrument at three periods in Lennon's life and career. The first, finished in Vintage Sunburst and limited to 500 guitars, represents the guitar as it was when Lennon first acquired it and used it on several famous Beatles recordings from 1963 to '64, including Please Me, With The Beatles and A Hard Day's Night.
The second is a stunning Custom Shop "Imagine" model in a Soft White finish personally requested by Yoko Ono to reflect the sentiment of John's life and music during the recording of Imagine. And the third is the model as it is today, on display at the Rock and Roll Hall of Fame in Cleveland, with a thin, natural finish and Lennon's famous "John and Yoko" caricature sketches, representing the appearance of the guitar during the famous Lennon-Ono "Bed-In" peace protests of 1969.
The custom shop's second and third renditions are limited to 70 guitars each, one for every year since John's birth in 1940, and both include a special 70th Anniversary Certificate personally signed by Yoko Ono and sent to the final purchaser by Certified Mail. As for construction, each version is an accurate rendition of the J-160E of 1962, a guitar originally released in 1954 as one of the world's first successful "electro-acoustic" guitars, with built-in pickup and electronics and ready to hit the stage for the professional performing musician. Beloved by Lennon, and kept close throughout his too-short life, the 70th Anniversary John Lennon J-160E is a guitar every Beatles fan will want to make their own.
Body and Finish
Styled after Gibson's classic round-shouldered dreadnoughts, the 70th Anniversary John Lennon models are built with a laminated Sitka spruce top with historically accurate ladder bracing and mahogany back and sides. The 70th Anniversary Lennon J-160E has a classic 1960s vintage sunburst lacquer finish, the Lennon "Imagine" model is customized with a soft white finish, and the Lennon Museum model has a very thin natural lacquer finish.
Neck and Headstock
The guitar's neck and headstock are made much in the tradition of the original J-45, with the 24-3/4" scale length as featured on several classic Gibson flat-tops. Carved from a single piece of quarter-sawn mahogany to a comfortable rounded profile, and topped with an Indian rosewood fingerboard, the design incorporates Gibson's lauded 17-degree back-angled headstock, with John Lennon signature inlaid in mother-of-pearl (and abalone on the Imagine model).
Hardware
The 70th Anniversary John Lennon models carry an up-market hardware set, including vintage-style nickel tuners with keystone buttons, and belly-up rosewood bridge with adjustable saddle.
Accessories
Each model comes with a special hardshell case, Certificate of Authenticity, an owner's manual and literature for Gibson's Gold Warranty. The Museum and "Imagine" models include a Special 70th Anniversary Certificate personally signed by Yoko Ono, delivered by Certified Mail.
Same Day Music is an authorized dealer of
Gibson
products.
Body
- Body Type: Round Shoulder
- Top: Laminated Sitka Spruce Top
- Back and Sides: Mahogany
- Binding: Multi-ply Top Binding, Single Ply Back Binding, Traditional Rosette
- Bracing: Traditional Ladder Bracing
Neck
- Species: 1-piece Mahogany
- Profile: Round Neck
- Thickness: 1.725" at Nut
- Truss Rod: Single Action
- Adhesive: Premium Titebond
Neck Fit
- Joint: Compound Dovetail
- Construction: Joint at 15th Fret
- Adhesive: Hide Glue
Fingerboard
- Species: Indian Rosewood
- Frets: 21 Historic Jumbo Frets
- Scale Length: 24 3/4"
- Radius: 12"
- Fret Wire: Nickel Alloy
- Inlays: Mother of Pearl Trapezoids with John Lennon's birth date engraved on 12th Fret
- Adhesive: Premium Titebond
Nut
- Material: Bone
- Width: 1.725"Headstock
- Type: Traditional J-160E
- Angle: 17 deg
- Inlay: Mother of Pearl "Gibson" logo inlay with "John Lennon" script signature on the 70th 160E VS and the 70th Museum Model. Abalone signature on the 70th Imagine Model.
Truss Rod Cover: Black Bell on the 70th J-160EVS and 70th Museum model. White Bell on the 70th Imagine Model.
Tuning Keys
- Type: Vintage Kluson-Gotoh with Keystone Tuners
- Material: Nickel
- Ratio: 14:1
Bridge
- Type: Traditional Belly Up with Adjustable Saddle
- Material: Indian Rosewood
Hardware
- Pickguard: Historic J-160E Pickguard. Tortoiseshell on 70th J-160E VS and 70th Museum Model.
- Knobs: Amber Top Hats w/Silver Inserts
- Strap Buttons: Traditional Strap Button
- Strings: .011" - .052" Gibson Light Gauge
Pickups
- Model: P-90 Single Coil at end of fingerboard
- Volume Control: 1 Volume Control, 1 Tone Control
Finish
- Sealer: Hand Sprayed Nitrocellulose Lacquer Vintage Sunburst "Imagine" White Natural
Case
- Type: Gibson 1960s vintage style case for the 70th J-160E VS. Custom Hardshell Case with the Imagine and Museum Models.
- Case Exterior: Black Tolex
- Case Interior: Plush yellow interior for J160E VS Plush burgundy interior for the Imagine and Museum Models.
Accessories
- Manuals: Owners Manual, Gibson Gold Warranty
Same Day Music is an authorized dealer of
Gibson
products.