Same Day Music is an
authorized Gibson dealer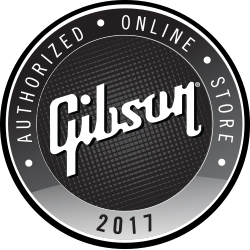 The Working Man offers a simplified round-shoulder for the songwriter and working musician.
In today's world, many acoustic guitar manufacturers have chosen to build their instruments more quickly, cheaply, and in greater numbers.
Gibson acoustic guitars are made one-at-a-time, by hand. No shortcuts. No substitutions. They're made in Bozeman, Montana, where the climatic conditions are ideal for guitar building. Most importantly, Gibson acoustic guitars are built by master craftspeople that have dedicated their lives to building the world's finest acoustic instruments.
These elements combine to create the difference that is the Gibson acoustic guitar. The difference is "MasterBuilt."
Environment
Even though they might get a little more snow up there, the environs of Bozeman, Montana are a guitar builder's dream, come true.
Extreme heat and high humidity are natural enemies of wood. Bozeman has neither. The fine Spruces, Maples, Mahoganies, and Rosewoods are carefully cured and environmentally maintained during the building process.
There are other advantages to Montana in addition to its ideal climate. Gibson's acoustic guitars rely heavily on its builder's sense of creativity and concentration. Living in "Big Sky Country" appears to nurture both of these needs. It seems that looking out over a range of snow covered mountains every morning makes for inspired guitar building - which, in turn, makes for inspired guitars.
Artistry
Experienced builders and players understand that handmade quality, design, and construction determine an instrument's ability to produce truly beautiful sound. Gibson's methods of handmaking guitars have remained unchanged for nearly a century.
The top brace of each guitar is carefully scalloped and arched to focus the sound to the center of the soundhole. The resulting distinctive "Gibson Tone" shares the same vibrance and fidelity as the sound from a fine audio speaker.
Instead of a cheaper bolt-on neck, Gibson's dovetail joint technique creates a cohesive bond between the vibrating neck and body - almost as if the guitar were carved from a single piece of wood. This time-honored technique effectively transfers the strings' vibrations directly into the wood for superior tone and unsurpassed resonance.
Finally, unlike other manufacturers, Gibson still uses its famous "violin-like" lacquer finish. Over the years, the complex makeup of the lacquer merges with the wood, further sweetening the instrument's tone and providing an unmistakable "vintage" look and feel that players and collectors have come to cherish.
Each Gibson acoustic guitar is full of expression, character and exquisite beauty. None is ordinary, and no 2 are alike. When compared to a marketplace full of "lookalikes," the differences of a MasterBuilt Gibson acoustic are unmatched in quality and performance.
Warranty
In 1894, in a one-man shop in Kalamazoo, Michigan, Orville Gibson created a new family of guitars and mandolins that would inspire generations of craftsmen to produce some of the finest instruments the world has ever heard or seen. The Gibson Mandolin-Guitar Co., Ltd., was formed on October 10, 1902, to build instruments that carry on not only Orville's designs but also his conviction to quality.
Gibson celebrated its 100th anniversary in 1994 with the spirit of Orville still going strong. Gibson's combination of traditional craftsmanship and innovative technology has made Gibson the only company that produces industry standard models in every style of fretted instrument, from electric and acoustic guitars to mandolins, banjos, and resonator guitars.
The Gibson Gold Warranty carries on the tradition of the limited lifetime warranty introduced by the company's founders. It represents their commitment to producing the world's finest musical instruments and providing complete customer satisfaction.
Gibson Gold Warranty
Your new Gibson instrument is warranted to be free from defects in materials and workmanship for the life of the original retail purchaser, subject to the limitations contained in this warranty.
If at any time this Gibson instrument malfunctions as a result of faulty materials or workmanship, Gibson will repair the defect(s) or replace the instrument, as it deems appropriate in its sole discretion. Gibson reserves the right to use materials regularly utilized at the time of repair in the event that original materials are no longer available, If replacement of your instrument is deemed appropriate by our staff, Gibson will replace the instrument with one of the same or most similar style of a value not in excess of the original purchase price of your instrument.
This warranty covers the cost of both labor and materials on any repair deemed necessary by our Customer Service Representative for the lifetime of the original purchaser. In the unlikely event that your instrument is destroyed, lost, or damaged beyond repair, while in the possession of Gibson for repair, Gibson will replace that instrument with one of the same or most similar style of a value not in excess of the original purchase price of your instrument. Any insurance covering the instrument, including but not limited to collector's value insurance, must be carried by owner at owner's expense. For more info please refer to the Gibson website.
Same Day Music is an authorized dealer of
Gibson
products.