Same Day Music is an
authorized Galaxy Audio dealer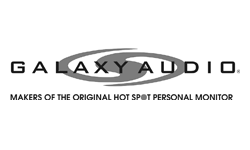 Today, there is a need to know just how loud your surroundings really are. The Checkmates are inexpensive tools everybody should own. The CM140 and CM150 meet the same IEC 651 Type 2 standards of SPL meters that cost 5 times as much or more. Windscreen and battery are included with each of the Check Mate models.
The Check Mate series SPL (Sound Pressure Level) meters, first introduced in early 2003, allow musicians, sound contractors, and others to measure SPL in decibels (dB). A decibel is defined as the unit for measuring relative loudness of a sound.
Features
Mini Size
Low Cost High Performance
MAX/MIN Function
Level Range Display
AC Signal Output
Resolution 0.1 dB
IEC 651 Type II, ANSI S1.4 Type II
Same Day Music is an authorized dealer of
Galaxy Audio
products.
Microphone: 1/2 in. Electret condenser microphone
Accuracy: +/- 1.5 dB (ref 94dB @1KHz)
Level Range:
- Lo = 32 ~ 80 dB
- Med = 50 ~ 100 dB
- Hi = 80 ~ 130 dB
Auxiliary Outputs: AC Signal Output
Frequency Weighting: A,C
Time Weighting: Fast, Slow
Dynamic Range: 50 dB
Frequency Range: 31.5Hz to 8KHz
Battery Life: 9V Battery 70 hours (included)
Operation Temp.: 0 degrees C~ 40 degrees C(<80% R.H.)
Storage Temp.: -10 degrees C~ 60 degrees C(<70% R.H.)
Dimension: 9.1 x 2.1 x 1.3 in. (232mm x 54mm x 34mm)
Weight: Approx. 0.54lbs. (200g)
Included Accessories: Operation Manual, 9V Battery, Windscreen
Same Day Music is an authorized dealer of
Galaxy Audio
products.