Same Day Music is an
authorized Galaxy Audio dealer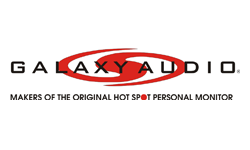 The Hot Spot has evolved over the past 3 decades. Galaxy Audio's biggest change, up until now, has been improving their ceramic "old style" driver to the Neodymium driver. Now their HS7 utilizes the same neodymium driver as its most recent predecessor, with one significant improvement, there is more bass output.
The shell is slightly larger with many cool 'built-ins' such as, built in mic stand mount, mic boom attachment, integrated handle and built in stand/wall bracket mounts (optional bracket). Being that there is more room inside the cabinet, this creates better bass response.
The Hot Spot is a vocal reproduction monitor. The original Hot Spot monitor was developed in 1977 by Galaxy's founder while touring with musicians. The need for a vocal monitor became necessary and thus the Hot Spot was born.
The Hot Spot works great for numerous reasons. First, the Hot Spot can be set on a microphone stand, which allow them to be positioned closer to the user. Think about it, many performers purchase a 12" or 15" floor monitor and during the performance, roll off the low end and crank up the volume so the sound will travel from the floor to their ears. The Hot Spot is mid range oriented and it is closer to the performer, so there will be less stage volume, which reduces feedback. Second, the Hot Spot is physically smaller and lighter in weight, which makes it easier for transport, plus the clarity is superior to any larger floor monitor.
Galaxy Audio has produced hundreds of thousands of Hot Spots. Hot Spots work great for nearly any type of music or speech applications. Using Hot Spots will actually help reduce feedback from occurring on stage!
The design of the Galaxy Audio HS7 Hot Spot includes a convenient mic stand insert on the bottom of the unit. This allows a quick setup on top of a mic stand, with the HS7 Hot Spot angled upward for accurate vocal monitoring. The included mic stand adaptor insures a more stable and secure placement on any mic stand. Molded-in yoke bracket points. With the optional yoke bracket assembly the HS7 Hot Spot can be mounted to a wall or ceiling, or attached to a mic stand and angled in any direction.
Microphone boom attachment on top of the Galaxy Audio HS7 Hot Spot eliminates the need for a second mic stand for your microphone. (Requires optional hardware). Integrated handle into the top of the enclosure. Each Hot Spot HS7 comes equipped with two Speakon(R) 1/4" Combo speaker jacks, all of which are wired in parallel to allow easy "daisy chaining' of multiple Hot Spots.
Features
- 18 dB stepped attenuator volume control
- 16 ohm cabinet with two Neolite 5-Inch drivers
- 200 watts continuous power rating
- Freq. response 150Hz-18kHz
- 126 dB SPL (200 Watts @ .5 Meter)
- Input connections: two Twistlock/-Inch
- Combo jacks (wired in parallel)
- Stand adapter included
- Mounts to any mic stand
- Integrated handle, mounting points for mic boom & bracket
- Three year warranty
Neolite 5-inch Woofer S5N-8
Galaxy Audio introduces the 5-inch driver of the future! Like its predecessor, this speaker is tailored to reproduce a frequency range from 150Hz-18kHz. The magnet of the Neolite is manufactured from a material called Neodymium, a rare earth element. Neodymium has an extremely intense magnetic field in comparison to its weight. The Neolite is as powerful as the previous 5" driver, yet weighs 1/3 as much. In addition, the Neolite driver is shielded. This allows the speaker to be placed near sensitive equipment that may be affected by a strong magnetic field, such as a TV or a computer monitor.
The Neolite can handle 100 watts continuous/200 watts max! How is it possible for a speaker this size to handle power like that? A speaker is only as good as its ability to dissipate heat. The Neolite has a patented cooling system called Super Cool. Super Cool is based on three different methods of heat transfer.
Same Day Music is an authorized dealer of
Galaxy Audio
products.
- Speaker Compliment: Two 5-inch drivers (S5N-8) Neolite Neodymium, Ferro Fluid cooled
- Nominal impedance: 16 ohms
- Power handling capacity: 200 watts cont.
- Magnet Structure: 14.8 oz. (.42 kg) total
- Sensitivity (1 watt @ 1 meter): 94 dB (1 kHz octave band)
- Frequency Response: 150 Hz- 18 kHz
- Input Connections: Two Speakon/ 1/4-inch combo jacks POS: +1 NEG: -1 wired in parallel
- Additional Feature: volume control; range 18 dB
Enclosure
- Enclosure Materials: High Impact ABS Plastic
- Color: Black
- Mounting: 1-3/8" (35 mm) pole-mount socket
- Dimensions: 7.75 x 11.75 x 6.75 in. (197mm x 298mm x 171mm)
- Net weight: 5.25 lbs. (2.381 kg)
- Shipping weight: 6.4 lbs. (2.903 kg)
Same Day Music is an authorized dealer of
Galaxy Audio
products.
Shipping Weights and Dimensions

Shipping Weight: 7 lbs
Shipping Dimensions: 14 x 10 x 9 in