Same Day Music is an
authorized Galaxy Audio dealer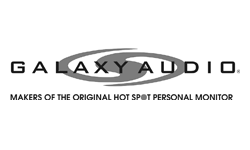 The Galaxy Audio LSR38 Life Saver is a unique equipment stand stabilizer that may be used in a variety of ways in Audio, Video, Lighting, and Theatre applications. Any mic or speaker stand may become unstable because of a top-heavy center of gravity, a boom extended laterally, or simply because the stand is set on an uneven surface. When filled with Sand or Water the Life Saver provides enough weight at the bottom to stabilize most mic and speaker stand applications. The doughnut shape of the Galaxy Audio LSR38 ensures that the Life Saver will stay on the base of the stand, even if the stand is pushed or bumped. The Galaxy Audio LSR38 weighs 38lbs. when filled with sand, and 22lbs. when filled with water. The durable reinforced vinyl material and easy-fill water tight design allow the user to transport the Life Saver empty, and fill with water on location. The Galaxy Audio LSR38 dimensions are: 16 O.D. x 6 I.D. x 3 inches Thick. The Life Saver will pay for itself the first time it prevents your expensive mics or speakers from hitting the floor.
Features
- May be filled with sand or water
- Protects mics and speakers from damage
- Helps keep microphone, speaker and lighting stands upright
- Bag measures: 16 in. O.D. x 6 in. I.D. x 3 in. thick
- Weighs: 38 lbs. with SAND 22 lbs. with WATER
- Sand/Water not included
- Unique doughnut shape keeps bag on the stand
- Weight: 0.8 lbs
Same Day Music is an authorized dealer of
Galaxy Audio
products.