Same Day Music is an
authorized Hohner dealer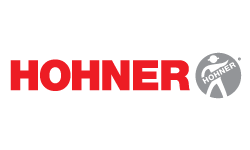 From blues to country to folk to rock, the Hohner 560 Special 20 Pro Pack Harmonica Set is an excellent choice for the novice player. With its special airtight design, tone and reliability, the Special 20 is a recommended harmonica for players of any style.
The Hohner Special 20 features a plastic comb for improved airtightness to refuse the absorption of moisture providing a longer lasting functionality. Increased airtightness also means increased responsiveness, plastic provides comfort and is smoother on the lips which prevents chafing.
Another plus with the Special 20's design is that the Reed Plates are recessed into the comb behind the plastic mouth piece for smooth playing. Plastic combs are more stable and do not swell, shrink, and crack.
Features:
- Highly responsive and tonal harmonica set
- Keys of G, A and C
- 20 Reeds
- 0.9 mm, Brass Reedplates
- Plastic Comb
- Approximately 10 cm Long
Same Day Music is an authorized dealer of
Hohner
products.