Same Day Music is an
authorized Hohner dealer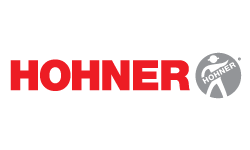 Hohner's Big River Pro Pack provides deep and sensual blues in the keys of G, A and C. An attractive and robust instrument, The Big River harps are a quality staple for beginners as well as a sure performer for seasoned veterans. An incredible set of original Hohner harmonicas at an affordable price!
Features
- 20 Reeds
- Brass, 0.9 mm Reedplates
- Plastic Comb
- Approximately 10 cm in Length
Hohner's diatonic harmonicas set the industry standard through their high quality construction, excellent response and unsurpassed tone. Often called "Blues Harps", they have been a fixture as melody and accompaniment instruments in blues, rock, country, and folk bands, as well as many other styles of music and musical ensembles. Richter tuning and undivided air channels allow for bending and overblowing the reeds, creating the signature wailing sound typical of the harmonica.
The MS Series provides harmonicas that adjust to YOU!
The abbreviation MS stands for Modular System, an integrated concept in harmonica design. All individual MS parts (combs, reed plates and covers) can be combined and integrated with any of the MS harmonicas. Customize your harp with features that matter to you. Simple screw connections allow for easy assembly. Screws also allow for easy access to the reed plates, giving the player the ability to adjust the instrument to their own personal requirements.
Same Day Music is an authorized dealer of
Hohner
products.