Same Day Music is an
authorized Hohner dealer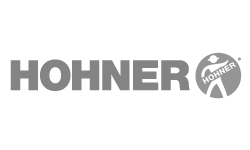 Awesome response, superior bendability and the sweetest tone ever. The Special 20 harp is the first choice for those learning to play. Its special airtight design makes it the most recommended go-to harp for harmonica players of any style, including blues, country, folk or rock. The plastic comb doesn't absorb moisture making it longer lasting. Harp of choice of harmonica virtuoso John Popper (of Blues Traveler) and played by Bob Dylan on his 2007/08 tour. Chances are your favorite player has several of these harps in his case. 12 major keys plus lower and higher octave tunings.
Hohner's Diatonic
Hohner's diatonic harmonicas set the industry standard through their high quality construction, excellent response and unsurpassed tone. Often called "Blues Harps", they have been a fixture as melody and accompaniment instruments in blues, rock, country, and folk bands, as well as many other styles of music and musical ensembles. Richter tuning and undivided air channels allow for bending and overblowing the reeds, creating the signature wailing sound typical of the harmonica.
Traditional Values, Modern Innovation
This is the essence of the Classic line -- traditional values and cutting edge technology. Extremely precise tools minimize air loss and ensure a quicker response and bigger volume. As always, each Classic harmonica is exclusively handmade.
Great Tone and Comfort
Durable plastic comb with recessed reed plates for playing comfort. The stable, airtight construction and full sound make the Special 20 one of the most popular diatonic models.
Same Day Music is an authorized dealer of
Hohner
products.
- Reeds: 20
- Reedplates: Brass; 0.9 mm
- Comb: Plastic
- Length in cm: approx. 10.0
- Seven Pack includes harmonicas in the keys of A, B, C, D, E, F, and G. As well, it includes a carrying case and belt.
Same Day Music is an authorized dealer of
Hohner
products.