Same Day Music is an
authorized Hohner dealer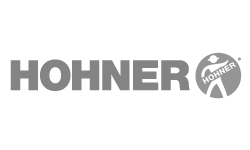 Hohner's diatonic harmonicas set the industry standard through their high quality construction, excellent response and unsurpassed tone. Often called "Blues Harps", they have been a fixture as melody and accompaniment instruments in blues, rock, country, and folk bands, as well as many other styles of music and musical ensembles. Richter tuning and undivided air channels allow for bending and overblowing the reeds, creating the signature wailing sound typical of the harmonica.
Piedmont Blues or East Coast Blues was born in the American Southeast during the 1900s. Out of its diverse influences arose some of Americas most well known blues harmonica players.
The Piedmont Blues set presents the beginning harmonica player with an affordable way to sample playing in seven different keys (G, A, Bb, C, D, E, F). Each harmonica has a matte black finish with gold trim and the entire set comes in a zippered case. Packaging includes a cardboard sleeve with printed instructions and a key chart to get you started.
Same Day Music is an authorized dealer of
Hohner
products.