Same Day Music is an
authorized Hosa dealer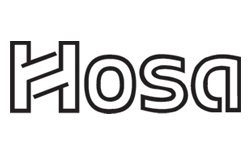 Multi-voltage AC adapter for use practically anywhere.
Features
Worldwide Input: AC 100-240v, 50/60Hz, adjusting automatically
Regulated Output: DC 3-4.5-6-7.5-9-12V, 1200mA max
High Efficiency: More than 80%
Six Adaptor Plugs: For use with most small home electronic devices
Short Circuit Protection (SCP): Self-protection against short circuit
Innovative Design on Voltage Button Selector
LED Power Indicator
Compact in size, Light in weight, convenient to use, and easy to carry
Includes adapter tips for: 0.75 x 2.35mm, 1.70 x 4.0mm, 1.35 x 3.5mm, 2.10 x 5.5mm, 1.50 x 5.0mm, 2.50 x 5.5mm
Center negative and center positive
Same Day Music is an authorized dealer of
Hosa
products.
Instructions
Check the needed voltage on your electronic device and set the selector switch to the
proper voltage.
Six adapter plugs are supplied, choose the one that best fits the external power jack.
Check instructions and rating of the device and determine the polarity before inserting the chosen adapter plug into the external power jack. See Fig.2 for common symbols for tip polarity.
Plug the adapter into a standard electric wall outlet and operate your device as usual.
CAUTION
It is normal for this unit to generate some heat when working at its maximum capacity for an extended period of time.
Carefully check and set the DC voltage on the unit. Your device may not work properly if improper voltage is chosen.
Do Not set the polarity in reverse. Reversed polarity may cause permanent damage to the device.
Do Not change output voltage when the unit is working to prevent possible damage to the device.
Disconnect this device IMMEDIATELY from power source to prevent any possible damage when the device does not operate or when the LED is turned out by its SCP.
Do not open, alter, and or modify this unit.
Same Day Music is an authorized dealer of
Hosa
products.
Shipping Weights and Dimensions

Shipping Weight: 1 lbs
Shipping Dimensions: 10 x 4 x 2 in