Same Day Music Description
The revolutionary spirit is still alive and well at Hartke; the Hartke HX410 HyDrive represents a sea change in the world of bass amplification, bringing an enormous tone-vocabulary to electric bassists around the world.
Paper cones have a traditional sound that, while familiar and pleasant, doesn't always cut it in modern music. While Hartke's aluminum-cone speakers provide a more aggressive, full-range tone, some bassists may miss the fuzzy warmth that paper cones provide. The Hartke HX410 HyDrive combines the best features of both worlds for a no-compromise design that will leave even the most discriminating of tone-smiths satisfied. The center of the HX410's HyDrive cones are aluminum, letting the highs and mids cut through, and providing the fast transients and hi-fi sound that made Hartke famous. The outer rim of the cone is paper, rounding out your sound with a focused and punchy low-end, and reintroducing an overall musical warmth back into your amplified bass tone. It's literally an "everything gained, nothing-lost" situation.
Mounted in the Harkte HX410 HyDrive, the hybrid driver design really shines. A sealed, dual-chamber cabinet design adds even more "oomph" to these already robust speakers, and with a power handling of up to 1,000 watts, there's no venue too large, no bass head that the Hartke HX410 will shy away from. An 8-ohm design, the HX410 HyDrive was made to be stacked as an 8x10 rig for the tone that legends are made of. Yet the Hartke HX410 is utterly portable. Built-in casters and rugged metal handles make transport easy, and the cabinet weighs less and is smaller than many comparable 4x10 designs. Features like Speakon and 1/4" inputs, and a high-frequency attenuation switch make the Hartke HX410 HyDrive cab a completely professional bass enclosure.
If you've never been completely satisfied with your bass tone, take heart: your search for the perfect cabinet is over. The Hartke HX410 HyDrive will give voice to the sound in your head, or introduce you to tones you never thought possible before. Finally, you'll sound like yourself, and no one else.
Same Day Music is an authorized dealer of
Hartke
products.
Hartke HX410 HyDrive Bass Cabinet (1000 Watts, 4x10") Product Description
Same Day Music is an
authorized Hartke dealer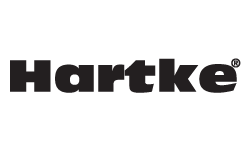 Professional performance and ample power were two critical considerations that heavily factored into the design of the HX410. The need for contemporary bassists to reach high volume levels with seamless performance is a common demand these days, but being able to do so with a durable, portable cabinet that only weighs 68 pounds is practically unheard of. This is where the HX410 bass cabinet comes in.
With power to spare, the HX410 features four 250 watt 10-inch HyDrive neodymium hybrid cone drivers for a total power handling of 1,000 watts. This HyDrive cabinet is beautifully appointed with a steel grill, steel corners, recessed handles and removable casters, making it both resilient and easy to transport. The HyDrive HX410 is a sealed, dual-chamber cabinet constructed from the highest quality plywood with extensive bracing and dado joints, making it rigid yet lightweight for superior projection and true sonic clarity.
The HyDrive HX410 was designed for demanding players who need critical performance at intense volume levels. Perfectly suited for all kinds of bass playing, Hartke engineers also specifically designed the HX410 with the midrange frequencies rock players rely on night after night on stages all over the world. With the power and versatility of the HyDrive speakers housed in a perfectly suited enclosure, it's clear that the HX410 performs on a level far beyond any ordinary bass cabinet.
What is HyDrive?
HyDrive transducers represent a revolutionary improvement in bass speaker technology and a major leap forward, fusing paper and aluminum in a roadworthy speaker design that is more robust and efficient than anything available.
With Hartke's HyDrive series, you get the best of both worlds: the warm tone of traditional paper cones and the clear, punchy attack of aluminum. HyDrive's patented Hybrid Cone Technology produces a speaker that uses an outside paper cone to push a warm, deep low frequency and an inner aluminum cone that produces mids and highs that cut, yet still remain sweet.
One of the most important advances with the HyDrive speaker is its power-to-weight ratio. A HyDrive speaker weighs 40% less than traditional speakers and delivers 250 watts for the highest power-to-weight ratio of any bass speaker available. But the innovation runs even deeper. Because of its cast aluminum frame and neodymium magnets, HyDrive speakers operate cooler and deliver more reliable power handling at peak performance.
Same Day Music is an authorized dealer of
Hartke
products.
Hartke HX410 HyDrive Technical Description
Dual-chamber, sealed Cabinet
4 x 10-inch 250 watt HyDrive neodymium hybrid cone drivers
1-inch titanium compression driver
Power Handling: 1000 watts @ 8 ohms
Frequency Response: 30 Hz to 17 kHz
Sensitivity: 99 dB @ 1 W/1 m
Voice Coil: 2.5 in.
Parallel Speakon and 1/4 in. inputs
High frequency attenuation switch (On, -6 dB, Off)
Removable casters
Dimensions: 24(H) x 24(W) x 15(D) in.
Weight: 68 lbs
Same Day Music is an authorized dealer of
Hartke
products.