Same Day Music is an
authorized Hughes & Kettner dealer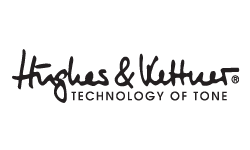 The TubeMeister 5 guitar combo amp stands as a testament to the knowledge and passion of Mr. Hughes and Herr Kettner. It transforms your every touch into expressive tone, delivering soulful sound straight from your fingertips. The fully-featured preamp offers a wealth of sonic riches. A flip of the Drive switch is all it takes to go from clean to mean. The power amp sports oversized transformers and a 12BH7 dual triode that operates in push-pull mode. Housed in a single glass envelope, these two tube systems deliver a devastating one-two punch that will rock your tone!
The ultra compact TubeMeister 5 Combo delivers the same response and transcendent tone as the head. Housed in a custom-designed enclosure loaded with a Celestion 8" speaker, this combo packs a jaw-dropping wallop. And if you need to keep it soft in the studio or make it loud in the rehearsal room or on stage, the Red Box and power-soak are on board to feed true power amp tone straight to the desk.
And thanks to German engineering, the TubeMeister 5 conjures spine-tingling chills not only when you are playing. The thrills are sure to continue when listening to your tracks recorded with the integrated Red Box and Power Soak.
Features:
- Warm tube tone with phenomenal dynamic range that sweeps from sparkling clean to throaty crunch
- Harmonically rich tube distortion and the gain reserves to go from edgy overdrive to soaring lead sounds
- Passive voicing section with separately tweaked frequency response for CLEAN and DRIVE
- Preamp section sporting one 12AX7 tube
- 12BH7 dual triode push pull power section pumps out real 5 watts that rock
- Oversized transformers that allow greater headroom on CLEAN and more punch on DRIVE tones
- Automatic/switchable Power Soak with Silent-Recording-Function
- Balanced and speaker-emulated RED BOX OUT for authentic recording tracks
Same Day Music is an authorized dealer of
Hughes & Kettner
products.
- Channels: 1 Channel + Drive
- Power: 5 Watts
- Speakers: 1x8" Celestion EIGHT 15
- Protective Cover: Softbag included
- Dimensions: 349 x 317 x 234 mm
- Weight: 7.4 kg
Same Day Music is an authorized dealer of
Hughes & Kettner
products.