Same Day Music is an
authorized Ibanez dealer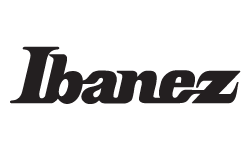 Without a doubt, your instrument should equal the quality of your effort. At some point the word "boutique" comes to mind: Select-grade materials, neck-thru construction, and top quality components, all in a meticulously crafted instrument. But what about the price? That's where the Ibanez BTB775PB 5-String Electric Bass comes in. Ibanez's ability to build small-shop quality into inspiring yet affordable instruments is showcased by BTB series basses.
35" Scale Neck
The BTB's extra-long 35-inch neck scale offers tight, even tension with no flopping on the low end, and added sustain on the high strings. It also provides superior articulation, making it perfect for both 5 and 6-strings.
Neck-Thru Construction & Deep Cutaways
Neck-thru construction provides massive sustain and excellent stability. The BTB's 5-piece Maple/Bubinga thru-neck design, along with its extreme cutaways, make every note on the 35" scale fretboard a player's playground.
Mono-Rail Bridge
The Mono-Rail bridge delivers the ultimate in string-to-string isolation, meaning that each string vibrates optimally without be affected by the others. BTB's string spacing is 19mm for 5-strings, and 17mm for 6-strings, offering more freedom on the fretboard, and comfortable access for finger picking and slapping.
3-band EQ w/Mid Frequency Switch
The active 3-Band EQ features fully independent bass, treble, and mid controls with a wide boost/cut range tuned specifically for the BRB775PB.The preamp system is equipped with a mid-frequency select switch, enabling you to instantly select 250Hz and 600Hz -- the heart of the mid zone - for a more dynamic and ideal tone.
Secure high-tech Neutrik locking output jack
The BTB775PB's Neutrik locking jack provides stable and secure connections, preventing accidental disconnect or shock and vibration.
Same Day Music is an authorized dealer of
Ibanez
products.
- neck type: BTB5 5pc Maple/Bubinga neck-thru
- body: Poplar Burl top/Mahogany body
- fretboard: Rosewood fretboard w/Abalone dot inlay
- fret: Medium frets
- number of frets: 24
- bridge: Mono-rail II bridge
- neck pu: Bartolini(R) BH1 neck pu
- bridge pu: Bartolini(R) BH1 bridge pu
- equaliser: EQB-IIIS 3-band eq w/Mid frequency switch
- nut saddles: BLACK TUSQ XL(R) nut
- hardware color:
Same Day Music is an authorized dealer of
Ibanez
products.