Same Day Music is an
authorized Ibanez dealer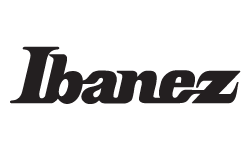 To the newcomer, the multi-scale concept may appear a bit unusual, but the biggest surprise may be how comfortable players become within a minute or two of playing the instrument. The different fret-to-bridge distances enhance tonality, creating a better-sounding bass. Previously, these instruments were only available from boutique bass builders, but now Ibanez is proud to introduce the SRFF805: a multi-scale bass at an affordable price.
The goal of the multi-scale system is to deliver the preferred tension on each string. The tension helps to create a more "alive", open tone. On the SRFF805, the scale length is 34" on the G-string side, expanding to 35.5 at the low B.
Although the multi-scale neck can appear intimidating and unnatural, nothing could be further from the truth. When looking down at the neck from the player's perspective, the exaggerated fret layout seems to almost disappear and actually feels quite normal. The slant of the fanned frets ergonomically coordinate with the way a players hand angles as it moves up and down the neck, facilitating quick, comfortable playing action.
The SRFF805 is a quality instrument designed for the experienced, seasoned musician. Its Ash body is attached to a 5-piece jatoba/bubinga SRFF5 neck with a rosewood fretboard, medium frets and custom fanned inlays. The Mono-Rail V Bridge is the perfect match for a fan-fret instrument, allowing for independent positioning of each strings "mini-bridge" section to providing excellent intonation and superior string vibration transference. Electronics include Bartolini BH1-5 pickups, for a full range warm punchy tone, and a 3-band EQ with bypass switch and mid-frequency switch for complete sonic control.
Same Day Music is an authorized dealer of
Ibanez
products.
- Neck: SRFF5 5pc Jatoba/Bubinga neck
- Body: Ash
- Fingerboard: Rosewood
- Inlay: Custom Position Inlays for SRFF
- Frets: Medium
- Neck Pickup: Bartolini BH1
- Bridge Pickup: Bartolini BH1
- EQ: Ibanez Custom Electronics 3-band EQ with EQ bypass switch (passive tone control on treble pot) & Mid frequency switch
- Bridge: Mono-rail V bridge
- Hardware color: Cosmo black
Same Day Music is an authorized dealer of
Ibanez
products.