Same Day Music is an
authorized Ibanez dealer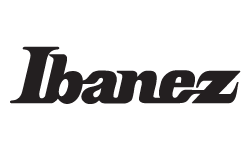 While the name and purpose of the new pedal is the same as the original '90s models, this version of Tube King, the TK999HT, differs from its two predecessors in that it features internal high voltage DC circuitry instead of previous starved plate low voltage circuitry. Includes AC adapter.
Using the 'starved plate' circuitry, the tube in the original Tube Kings really acted more as a filter to achieve tube tones. With the TK999HT the 12AX7 gets normal DC high voltage, allowing total linear operation of the tube. It works just like a tube preamp because it effectively is one. The result is that the TK999HT makes any solid-state amp sound just like a tube amp. The distortion is massive yet tight.
Features
- Genuine high voltage tube distortion pedal.
- Actual 12AX7 tube for massive yet tight distortion.
- 3-band active eq plus Presence switch for exacting tonal control.
- Void control for sharp rhythmic dynamics.
- Rigid zinc die-cast case.
- 12v AC adapter included.
Controls:
- Drive
- Level
- 3-band active EQ
- Void adjustable noise gate: produces "Machine Gun" effects.
Same Day Music is an authorized dealer of
Ibanez
products.