Same Day Music is an
authorized IK Multimedia dealer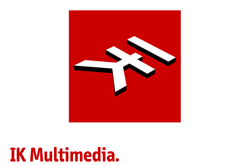 IK Multimedia's ARC System 2 (Advanced Room Correction) is the sequel of the first and only acoustic correction system that combines a measurement microphone, measurement software AND a correction plug-in to improve the sound reliability and acoustics of your studio in an elegant, low-cost portable solution.
ARC Takes Your Room Out of the Mix
ARC uses Audyssey MultEQ XT32 patented technology to improve your monitoring system so what you hear is not affected by distortions caused by room acoustics. Near field monitor systems used in studio applications are designed to deliver sound without distortion or coloration. However, when they are placed in a room, surrounding walls, ceiling, furniture, and other objects reflect and absorb sounds, creating complex distortions specific to that room. This ultimately causes them to lose the accuracy they have been designed for, and you end up hearing more of the sound of the room, than the music actually being produced.
A Break-through Solution for Acoustic Room Correction
Traditionally studio acoustics can be improved using acoustic treatments - but these are generally very expensive and require professional installations - which is often not practical in many of today's home and project studio. Other types of electronic correction systems use some form of equalization that works only on the frequency response of the room but worsen the phase response of what you are hearing. ARC System 2 solves all these problems elegantly, with a unique, innovative DAW-based solution that works both in the frequency/time domain and is not affected by any of the drawbacks of other type of correction systems.
Do you need ARC 2 if your room is already treated?
ARC 2 can improve the acoustics of ANY room. An untreated room will experience a dramatic improvement - but also treated rooms will sound better depending on the quality of the existing treatment. Many of ARC 2 improvements make it more effective in a wide spectrum of applications -- from amateur bedroom studios to the most high-end professionally treated studios.
Correct your room in 2 easy steps
With ARC anybody can correct a studio's acoustics in 2 easy steps. First you measure your room acoustics specified places with the included calibrated measurement microphone and software. ARC 2 allows you to take from 7 to 16 different measurements, depending upon the room size and your desired level of correction.
These measurements give the ARC 2 plug-in software the information it needs to accurately correct the entire room, not just the engineer's "sweet spot." Then, once measurements are taken, ARC 2 automatically calculates a correction algorithm that you can apply to your music with the included plug-in, placing it on your DAW master BUS. Using ARC 2 you can record and mix with confidence, knowing what you hear is not affected by the acoustic of your room. Once you are ready for your mix down, disable the plug-in, export your file and voila', your final mixes will have been made in the most accurate monitoring environment and your music will translate better to the outside world.
A professional microphone, not just for measurement
ARC 2 includes an omnidirectional, calibrated microphone that provides a transparent colorless, ultra-linear characteristic. When you are finished with your room measurements, it can be a valuable asset for capturing acoustic instruments such as pianos, guitars, strings or any other source where high-fidelity without coloration is required.
A truly unique listening experience
When you experience ARC 2 the perspective of what you are recording, mixing or mastering becomes immediately more clear and reliable. Low-end alterations, typically added by small rooms, will be removed giving you better control on low frequencies. You will also have a more consistent frequency response across the entire spectrum, and the tonal balance will be restored, allowing you to get more accurate mixes. Room defects will no longer capture your attention so you will work on your music faster with less ear fatigue, and greater consistency on your final music productions.
What's up in version 2
With thousands of installations since 2007, ARC systems have been put to use in every possible real-world situation. This experience and feedback from users all over the world has allowed the development of an even more accurate MultEQ technology (The MultEQ(R) XT32) that provides an even higher resolution EQ adjustment, especially in the extreme lower frequencies where correction is usually needed the most. ARC 2 also provides more natural and smooth midrange and high frequency performance, a combined L/R correction for high-quality control room optimization, and customizable target curves so you can shape the final response of your monitors. All of these features are nicely packaged in a user-friendly interface featuring a Monitor panel interface for even more control.
Better Correction - 4X greater resolution at low frequencies
The improved low-frequency resolution is now 4x better, (from 40 Hz down to 10 Hz) and effectively flattens the low-end response in the most uneven room.
More natural sound in mid and high frequencies
ARC 2 improves the correction in the mid and high frequency ranges, making the correction process totally transparent - but with clearer and more precise response. You can now completely rely on what a speaker-set corrected with ARC 2 is delivering, even in the most demanding studio environments with extremely high quality speakers and state-of-the-art rooms.
Combined Left and Right correction
This feature of ARC 2 improves the correction in high-end control rooms where the left and right monitors are positioned with absolute precise symmetry, improving the stereo image focus when working with elements panned dead-center in the mix - like vocals, bass, snare and so on.
Adjustment for Your Hearing
Many users have requested the ability to adjust and/or trim the frequency response with gentle wideband adjustments to accommodate the way their hearing is already subtly adapted to the irregularities of their room. This feature is now available in ARC 2.
Mix for Multiple Devices
With the included "Virtual Monitoring" feature you can intentionally shape the sound of the monitoring setup to match devices like LCD TVs, car audio systems, small radios, etc. This way you can quickly listen to your mix on other "virtual" band-limited systems to ensure a perfect sound translation.
Monitor Control panel
The Monitor Control panel provides you with the most frequently used control features: a big main volume knob to set your listening level, a DIM switch with an adjustable level, a MUTE switch and a listening "MODE" selector which can be toggled between standard Stereo, Mono or Side for quick reference checks. This added collection of tools creates a familiar, flexible "Control Room" workflow style for a superior listening experience and improved accuracy in mixing/mastering applications.
Streamlined measurement process
Now only 7 measurements are needed (down from 12) to calculate accurate corrections for your listening environment. Taking more measurements is still possible (and recommended -up to 16), as this leads to an even more precise response, but the MultEQ(R) XT32 algorithm provides greater resolution with fewer measurements allowing you to get a better degree of accuracy.
Features:
- The first DAW-based acoustic room correction plug-in
- Includes a measurement microphone, software and correction plug-in
- Based on Audyssey MultEQ(R) XT32 patented technology that corrects frequency and phase distortions in multiple room points
- Improves clarity, stereo imaging and frequency response for faster, more reliable mixing
- Improves the sound of any room - from bedroom studio to high-end control rooms
- Step by step measurement set-up can be made by anyone
- Perfect for the traveling engineer and on-the-spot corrections
New in Version 2:
- Completely redesigned interface for improved usability
- Four times greater resolution improves critical low-end response
- Smoother, more natural sound in the midrange and high frequencies
- Combined L/R correction option maintains perfect focus with symmetrical control rooms
- Customizable target curves allows to match engineers' personal taste
- "Virtual Monitoring" feature mimics the sound of various listening devices like popular studio monitors, car systems, boom boxes, etc. allowing to the test of how mixes translate on different systems
- Monitor Control panel interface streamlines workflow
- Fewer measurements now get higher quality results and shortens set-up time
- Measurements can be saved and used for multiple correction set-ups
Same Day Music is an authorized dealer of
IK Multimedia
products.
ARC System includes:
- Easy to use, step-by-step, room measurement software for Mac/PC
- VST, RTAS, AU correction plug-in for Mac/PC most popular DAWs
- (such as Pro Tools(R), Cubase(TM), Logic(TM), Sonar(TM), Live(TM), etc.)
- Professional measurement microphone
Measurement Software features:
- Automatic multi-point room measurement system, wizard based, based on Audyssey MultEQ(R) XT32 technology
- Measurement precision when used with ARC System microphone: +/- 1.5 dB
- Requires 48 kHz operation (only for measurements)
- Requires ASIO Audio Hardware on Windows 7, Vista or XP, CoreAudio on Mac OS X
- Saves Measurements sets to be opened on the ARC System Correction Plug-In
Correction Plug-In features:
- Multi platform high quality Frequency AND Time correction processor based on Audyssey MultEQ(R) XT32 technology
- Correction precision when used with ARC System microphone: +/- 1.5 dB
- Correction processor resolution: 32 bits floating point
- Correction processor supported sampling rates: 44.1 kHz to 192 kHz
- Four target curves
- Graphic Frequency response display
Professional measurement microphone features:
- Type: 1/4" precision measurement condenser microphone
- Polar pattern: omnidirectional, free field
- Capsule frequency response: 20-16,000 Hz
- Calibrated frequency response when used with ARC: 16-20,000 Hz, +/- 1.5 dB
- Output: transformerless, electronically balanced, 200 ohms output impedance
- Sensitivity: 50 mV/Pa
- Noise Equivalent Level: 22 dB
- Max SPL: 130 dB for 3% THD
Audyssey MultEQ XT32 Details
MultEQ(R) XT32 captures acoustical information at multiple locations throughout a listening area in both the time and frequency domains. It uses a sophisticated clustering algorithm to combine this information so that acoustical problems are accurately analyzed. Based on these measurements, MultEQ(R) XT32 calculates an equalization solution that corrects for both time and frequency response problems in the listening area and also performs a fully automated system setup. The result is clear, well-balanced sound for your studio. Click here for more information about Audyssey.
System Requirements
Mac(R) (32 and 64 bit):
- Minimal: 1.5 GHz Intel(R) processor, 1 GB of RAM, Mac OS X 10.6 or later.
- Supported Plug-in formats: Audio Units, VST, RTAS.
- Requires CoreAudio.
- Requires 48kHz operation (only for measurements).
Note: PPC CPU is no longer supported.
Windows(R) (32 and 64 bit):
- Minimal: Intel(R) Pentium 4(R) 2.4 GHz or Intel(R) Core(TM) Duo or AMD Athlon(TM) 64, 1 GB of RAM, Windows XP, Windows Vista or Windows 7.
- Supported Plug-in formats: VST, RTAS.
- Requires ASIO Audio Hardware.
- Requires 48kHz operation (only for measurements).
Same Day Music is an authorized dealer of
IK Multimedia
products.