Same Day Music is an
authorized IK Multimedia dealer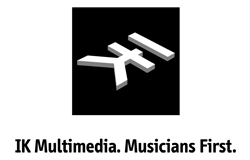 Composers can now realize the sounds in their heads thanks to the Composer Trio software bundle which includes SampleTank 2 L, Sonik Synth 2, and Miroslav Classik Edition. Featuring almost 7000 sounds and 12 GB of samples, this collection has everything in one location for quick, easy, inspirational composition! From the diverse mainstream and ethnic instruments of SampleTank 2 and the myriad pads, drums, and synths of Sonik Synth 2, to the sought-after orchestral sounds of the award-winning Miroslav library.
Composer Trio Software
Incorporating on the SampleTank 2.5 engine, the Composer Trio includes physical modeling effects and IK's exclusive Stretch engine. This combination of a powerful synth engine and high-end effects makes it easier than ever find the sound you're looking for, and even tweak that sound into something new to spark your creativity. Combine sounds to make even more deep and complex tones that will be the perfect addition to any soundtrack or composition.
Features
16 part multi-timbral sample-based synth, allows extremely complex synth layering and advanced manipulation possibilities with Stretch engine
3 synth engines can be switched on the fly: traditional Resampling, Pitch-shift/Time-stretch, and IK's newly enhanced Stretch engine
Built-in multi-effects with 5 effects per part selectable from 33 high-quality DSP effects, with BPM sync
Over 50 synth controls with Mono/Poly/Legato modes, 2 LFOs, 2 Envelopes, syncable LBF/BPF/HPF Filters, Velocity, Range and Macro controls
Sounds can be read by SampleTank and can be used to expand its world of sounds
Instruments work as standalone applications as well as a plug-ins in Mac OS X (Universal Binary), and Windows (XP / Vista)
SampleTank 2 L
Professional Sample Workstation with sounds from every genre and style. This is the perfect sample-based synth to add to your collection. Not only does it come with an arsenal of amazing sounds of every instrument category, but it is also a great sound design tool. Import samples from many different formats, and use them with the SampleTank engine, which includes the proprietary Stretch format and a massive internal effects section. Includes over 900 sounds for 2 GB of samples.
Features:
- Sample workstation with every type of instrument
- Includes a wide variety of mainstream and ethnic instruments
- Over 900 sounds, over 2 GB of samples
- 33 superior multi-effects
- Opens all the IK modules' sounds into a unique super-instrument.
Miroslav Philharmonik Classik Edition
The definitive Orchestral Workstation that was made by a musician, for musicians, and has become a timeless masterpiece. Nothing else is as expressive or easy-touse. When you need realistic, emotional orchestral sounds, this is the best there is. Includes 250 sounds for 1.5 GB of samples.
Features:
- Orchestral and choir workstation with a complete orchestral sound set
- Includes the famous Miroslav Vitous sound set heard on numerous soundtracks and film scores
- Over 250 sounds and 1.5GB of samples
- Sounds can be loaded into SampleTank 2.5 to be combined with other instruments
Sonik Synth 2
A plug-in Synth Workstation that includes every synth and workstation type of sound and more for all your production needs from Sonic Reality. From electronic drum kits to expressive symphonic strings, this plug-in includes over 5,000 inspirational sounds and 8 GB of samples.
Features:
- Complete workstation with the widest range of synth elements, layered sounds and waveforms
- Includes drums, pads, acoustic and electric keyboards, organs, and much more
- Over 5,800 sounds and 8 GB of samples
- Sounds can be loaded into SampleTank 2.5 to be combined with other instruments
Same Day Music is an authorized dealer of
IK Multimedia
products.