Same Day Music is an
authorized IK Multimedia dealer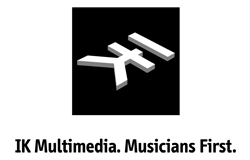 Introducing the iKlip 2 for iPad Mini -- a multi-angle lightweight universal iPad Mini microphone stand adapter. IK has taken the hugely successful iKlip Microphone Stand Adapter and made it even better and easier to use. Now take your favorite music apps to the stage for live performance with solid, dependable secure support and multi-angle global positioning.
Hold Your iPad Mini at the Perfect Angle
The iKlip 2 for iPad Mini is easy to use in any live setting - onstage, in the studio, at school, at home or in the boardroom. With its ball joint multi-angle adjustable design, you can securely position your iPad Mini for optimal viewing and accessibility, while all controls, buttons and connection ports remain free from obstruction. Plus, the iKlip 2 can now be attached to beefier mic stand poles -- up to 1.2" diameter.
Cutting-Edge Italian Design. Solid Construction. Rotational Freedom.
The iKlip 2 is entirely Made in Italy and is constructed from dense thermoplastic molded components, which provide extreme durability and secure holding abilities under the most demanding situations. This material is also extremely lightweight, making it the ideal, stable option for most stand types. iKlip 2 features a ball-joint design so you can freely rotate and position your iPad Mini for the optimum viewing angle. Now you can quickly and easily switch from horizontal to vertical orientation without additional tools.
The Right Support for a Multitude of Apps
As a guitar or bass player, you can now use iPad mini onstage with AmpliTube as your guitar amp and effects unit, iRig, iRig STOMP or iRig HD as your interface, and, thanks to the iKlip 2, have all controls accessible right in front of you on your mic stand. Or if you use tablature and scoring apps, use iKlip 2 to put your iPad mini within easy viewing range for learning and performing.
As a vocalist, you can now have the perfect companion for showcase performances: create and share set lists with your band members, complete with scoring, lyrics and notes. Everything you'd use on stage with your iPad Mini is now within your reach. Use the iKlip 2 for iPad Mini with your VocaLive app and iRig MIC to add stunning effects and harmonies to your vocals in real time.
Got a DJ, sequencer or instrument app? Klip 2 can also be mounted on a tabletop mic stand, making it the perfect performance accessory for DJs or for musicians who play virtual instruments.
Features:
- Sturdy, durable thermoplastic construction with sure-grip touch points - securely holds your iPad mini without scratching or marring it
- Universal stand mount clip securely attaches to virtually any microphone stand up to 1.2" in diameter
- Multi-angle and multi-rotational adjustment allows precise positioning for optimal stage or studio viewing
- Quick-snap clips provide fast, secure iPad insertion
- Fast installation -- iKlip installs on your mic stand in seconds with the twist of a knob
- All controls, buttons and connectors are accessible when your iPad Mini is placed in the iKlip
- Ball-joint positioning system provides quick 360 rotation for any viewing orientation
- Can be mounted on the vertical part of a mic stand, or on a horizontal boom for limitless positioning
- Designed and manufactured in Italy
- Available separately for the full-size iPad (iKlip 2 for iPad)
Use it for:
- Score viewing during musical performance and playback
- Viewing notes and presentation materials during live presentations/performances
- Learning tool - use your tablature and notation apps to learn songs and riffs
- Use it with AmpliTube for iPad to play on stage or practice at home
- Use your favorite iPad music creation apps like GrooveMaker
- DJs - now you can use your DJ Rig app live -- mounts to tabletop stands as well as standard mic poles
- Use with karaoke apps for live "play along" singing - whatever your favorite iPad app, it's now within your reach
NOTE: Shown in use with iPad. Only iPad Mini will fit this item.
Same Day Music is an authorized dealer of
IK Multimedia
products.