Same Day Music is an
authorized IK Multimedia dealer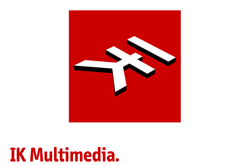 The IK Multimedia iKlip Desktop Stand securely holds your iPad mini at the perfect viewing and performing angle. It is a unique table-top holder that raises your iPad above your desktop, positioning it for perfect access while using keyboards, mixers, controllers and other equipment. Whether reading, studying, checking email, surfing the web or composing your next big hit, the iKlip Stand for iPad will help make the task easier and more enjoyable.
In your Face
Designed for ideal weight balance and constructed from rugged thermoplastic material, iKlip stand provides a secure and flexible perch for your iPad or iPad mini. Two independent articulation points allow you to adjust both height and viewing angle, in either portrait or landscape mode with a simple turn of the hand, putting your iPad mini right in the center of your attention.
Good Posturing
The iKlip stand naturally promotes good posture while composing, playing or working by allowing you to dial in the perfect alignment and positioning for your task. This helps eliminate fatigue and strain while working, making you more productive for longer periods of time. Good posture = more production = fame and fortune. It's that simple.
Portable and Quick
Set-up is a breeze. Simply place the stand on the flat surface, slide your iPad into the sure-grip clips, place your gear under your iPad, power up and you're ready to go! Average set-up times may vary, but in IK Multimedia's independent test labs, they were able to start composing in just under 6.7 seconds. Your average Barista can't pour a cup of coffee that fast!
Features:
- Sturdy, robust thermoplastic with metal reinforced base
- Tall enough to fit a keyboard, mixer or other studio device underneath
- Two independent articulations for maximum flexibility
- Adjustable viewing angle
- iPad orientation can switch from portrait to landscape
Same Day Music is an authorized dealer of
IK Multimedia
products.