Same Day Music is an
authorized IK Multimedia dealer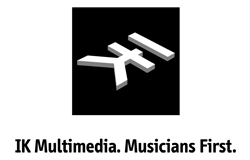 IK Multimedia's iRig MIC Cast is the ultra-compact, portable voice recording microphone designed specifically for recording podcasts, interviews, lectures, voice memos, speeches and more. iRig MIC Cast provides a pocket-sized voice recording solution with crystal-clear audio quality. It features a tight unidirectional pickup pattern that minimizes background noise, making it ideal for single-source audio recording. This makes iRig MIC Cast also great for business applications like recording meetings and enhancing the audio and voice quality of conference calls.
iRig MIC Cast is proof that great things come in small packages. In addition to an incredibly flat frequency response with zero tonal coloration, the iRig MIC Cast...
Features
- Features a stereo mini-jack headphone output which enables real-time monitoring of what is being recorded using headphones or speakers.
- Offers a mini-switch that provides two different sensitivity settings to record close-up or distant sources.
- Includes an adjustable desktop stand for convenient iPhone/iPod touch positioning during recording.
- Has a bumper-friendly mini-jack connector that fits the majority of iPhone/iPod touch cases.
- Has an ultra-compact profile that can be carried anywhere with ease.
- Like other IK Multimedia microphones, it includes 2 free apps: iRig Recorder, an easy-to-use voice recording/editing app, and VocaLive, a multi-effects processing app for singers.
- Works with all regular phone calls and any Voice-Over-IP app.
- Is compatible with iPhone/iPod touch/iPad.
NOTE: iPhone, and iPod NOT included.
Same Day Music is an authorized dealer of
IK Multimedia
products.
Compatibility
iRig MIC Cast is compatible with iPhone 4S, iPhone 4, iPhone 3GS, iPhone 3, iPod touch (4th, 3rd and 2nd generation), iPad, iPad 2, iPhone 5 and 3 and 4th gen iPads. They all require iOS 3.1.3 or later.
iRig MIC Cast does not support 1st generation iPod touch models, due to their lack of a mic input.
Same Day Music is an authorized dealer of
IK Multimedia
products.