Same Day Music is an
authorized IK Multimedia dealer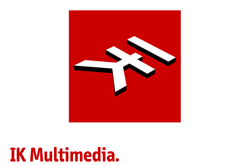 SampleTron is a new virtual instrument from IK Multimedia and Sonic Reality that combines the authentic recreation of "Tron" sounds such as Mellotrons, Chamberlins, and Optigans with the powerful SampleTank engine to take those nostalgic sounds into the new millennium. No other product allows you to manipulate, process and stretch such gritty, emotional and quirky lo-fi sounds like SampleTron. It's a virtual instrument made for many styles from hip hop to electronic to classic rock and offers some of the most unique musically useful tones you can imagine. From the nostalgic sounds used by The Beatles, Moody Blues, Genesis, Yes and other rock bands of the 60's and 70's to the modern production of artists like Kanye West, Smashing Pumpkins and Beck to new sonic creations now possible only with SampleTron, the sounds in this package are diverse, powerful and inspiring!
Features
- The first and only "Tron" anthology, containing over 600 presets from 17 rare and vintage Mellotrons, Chamberlins, and their derivatives
- Chromatic samples capture the complete, authentic tone of each instrument
- Powered by SampleTank to bring these vintage sounds into the modern world
- 4 "Tron" specific controls allow for fast and flexible creativity
- 16 part multitimbral and 32 effects let you create otherworldly sounds quickly and easily
- Includes "loop" and "non-loop" modes for greater flexibility and authenticity
- Sounds can be read by SampleTank 2
Tron History
The unique, easily recognizable, and instantly classic sound of the "Tron" instruments started with the Chamberlin keyboards in the 1950's, and peaked with the Mellotron 400, in the 1970's. This precursor to today's samplers uses tapes to play back prerecorded sounds at the touch of the keys. They are large and easily broken, but have such a unique sound, it's difficult not to love the nostalgic tone and instant 'vintage' gratification that comes from hearing one. Whether you know it or not, you've heard the sound of a Mellotron or one of its siblings. Just about every famous artist or band has used one in a song at one point or another. Possibly the most famous example of the "tron" sound can be heard in the opening bars of "Strawberry Fields Forever". This is the classic "tron" strings that is still widely used by artists today. Mellotrons have been used in countless songs, and just about all genres, from '60s and '70s rock, to the hip-hop of today, this is an instrument that works with just about everything.
One of the amazing things about the "tron" instruments is that, although relatively few have been made, they still bear a large relevance in today's music. In fact, they are in such high demand that the makers of the original Mellotrons, Streetly Music, began making them again in 2007 (although with some upgrades to 'modernize' them). Unfortunately for most of use, though, these hand-made keyboards are out of all but the most die-hard enthusiast's price-range.
Here are some information about the instruments that have been sampled in SampleTron.
Mellotron(r) M400
This is the most popular tron of all time. It has been used by countless artists from the 60's to today. The Mellotron Model 400 was the most portable and durable version and thus was used on tour with bands such as Led Zeppelin, Genesis, King Crimson, Yes and many others. It had 3 sounds in it that were selectable with an A/B/C switch. The most popular set of tapes being Cello, Flute and 3 Violins. The famous "Tron" choir sound being another popular choice as well which can be heard on albums such as Radiohead's "OK Computer". You could also mix two sounds by putting the A/B/C switch in between the letters. A mix of brass and violins that was done this way was another popular sound that can be heard in songs like "Watcher of the Skies" by Genesis.
Mellotron Mk2, M300 & Mk5
The Mark 2 was used by artists such as Tony Banks, and was the model most similar to the Chamberlin Music Masters. The M300 was the predecessor to the popular M400 model. The Mk5 was a dual manual version of the M400. Very few of them were ever made. Artist such as Paul McCartney and Rick Wakeman were among the handful of people that had them.
Novatron(r)
The Novatron was really a Mellotron M400 but along the path of changing hands there was a moment where the makers of Mellotrons had to call them Novatrons.
Optigan(r) and Talentmaker(r)
These keyboards used Optical discs as opposed to analog tape to playback their sound. The Mattel Optigan and Chilton Talentmaker had both accompaniment grooves and rhythms as well as a right hand organ/instrument keyboard. These instruments all had a lot of noise, pops and scratches similar to the sound of a really bad record player or old film projector. But that's also why they are considered sonic "art and beauty" today by the many producers looking for that character of sound.
Vako(r) Orchestron(r)
The Vako Orchestron was most likely intending to be the "new" Mellotron with similar sounds but using optical disc technology for playback which allowed the sounds to finally be looped for continuous sustain. These instruments all had a lot of noise, pops and scratches similar to the sound of a really bad record player or old film projector. But that's also why they are considered sonic "art and beauty" today by the many producers looking for that character of sound.
Chamberlin(r) M Series
The Chamberlin M-1 was a compact table top version and the most popular model Harry made. It had 6 available sounds including cello, flute, solo male and female voices, strings and more. There were other models such as the M-2 and M-4 that used the same basic frames to put together to make 2 and 4 manual versions which offered 2 and 4 times the amount of available sounds.
Chamberlin Music Master(r) & Rhythmate(r)
Harry Chamberlin created these contraptions in the early 60's as the ultimate theatre organ replacement offering the realistic sound of a full orchestra, full band accompaniment and the authentic solo sounds of instruments used in the music of the 40's, 50's and 60's such as sultry saxes, bizarre sound effects, Hawaiian pedal steels and emotional strings, flutes and human voices. The sounds were all pre-recorded onto analog tape that ran across a discrete tape head with a mechanism triggered by the keys of a keyboard. This is the technology that other Chamberlin models and Mellotrons were based on. The Music Masters had three sections: Rhythms, Accompaniment, and Solo with patch lists that were on paper. They were huge glorious beasts that had a greasy bicycle chain inside that you had to grab when changing sounds otherwise you might just spool off the tape. Up to 48 sounds or more could be in one Chamberlin Music Master. The sound effects of this early Chamberlin such as barn animals were used on The Beatles' Sgt Pepper's Lonely Hearts Club Band.
Powerhouse(R)
In SampleTron they went further into the esoteric by providing other "Tron" related samples such as the Powerhouse 8-Track Drum Box which was sold by Sound Sales (who at one point was the distributor of Mellotrons). This box had some really funky 70's beats that today have a rare analog lofi quality producers love. Apparently, the grooves were made with famous drummers and percussionists at the time. The unit they sampled belongs to Roger Manning (Jellyfish, Beck).
360 Systems(r) "Digital Tron"
The 360 Systems Digital Keyboard was marketed as a "digital tron" and it was one of the very first "digital romplers". With 8 bit low fidelity and being as scarce as it is to come by they thought it would be a nice addition to SampleTron's collection.
Stylophone(r)
The Stylophone has been used by David Bowie on his "Space Oddity".
Roland(r) VP330
The Roland VP330 Vocoder choir has been used by artists such as Genesis and Jean-Luc Ponty.
Same Day Music is an authorized dealer of
IK Multimedia
products.
Software Features:
Works as a standalone application, as well as a plug-in
Fully compatible with Mac OS X (Universal Binary), and Windows (XP / Vista)
Supported plug-in formats: VST, RTAS, and AU
16 part multitimbral
256 notes polyphony
16 individual stereo outputs
Mix view and full mix parameters control
32 DSP-based multi-effects (see Effects List)
Range Control allows for creating complex splits and layers
Total sound editing with full access to 50 Synth-Sampler engine controls
Instrument browsing
BPM syncable LFOs
Portamento Time control
Zone feature for single sample accurate editing
Part Volume / Pan controls
Expanded easy to use full MIDI control
Part and Combi preset save features
Convenient back-up function
Search function
Sounds can be read by SampleTank 2
3 Synth Engines:
Newly enhanced STRETCH(tm)
Pitch-Shift/Time-Stretch
Traditional Resampling
SampleTron-specific Macro Controls:
Sustain: Allows the samples to stop (more authentic), or loop continuously (more easily playable)
Tone: Makes the sound brighter or darker, much like the "Tone" knob on the Mellotron
Key Release: Switches between the abrupt cutoff of the classic "trons", and a more natural cutoff for optimal performance
Noise Resonance: Controls how much noise is heard in the sound
Effects list
Reverb, Spring Reverb, Reverb Delay, Ambience, Delay
Filter, Envelope Filter, Multi Filter, Wah-Wah
Chorus, Multi Chorus, Phaser, Flanger, Envelope Flanger
AM Modulation, FM Modulation
Auto Pan, Tremolo, Rotary Speaker
Lo-Fi, Distortion, Phonograph, Crusher, Overdrive
Pre Amp, Tone Control, Cabinet
Parametric EQ, Channel Strip, Compressor, Limiter, Slicer
3 Performance Modes
Poly
Mono
Legato 1-2
Crossgrade
If you are a registered owner of at least ONE IK product (Free versions excluded), you are now eligible to crossgrade to ANY other IK product at the discounted crossgrade price and save big! Both retail and special bundled versions of IK products, such as SampleTank 2 SE, AmpliTube LE and T-RackS EQ, qualify you for the extra savings you receive from the crossgrade prices on full versions of IK products.
System Requirements
Windows:
Minimal: Pentium 1GHz / Athlon XP 1.33 GHz, 512 MB of RAM, Windows XP / Vista or later.
Suggested: Pentium 2.4 GHz / Athlon XP 2.4 GHz, 1 GB of RAM, Windows XP / Vista or later.
Supported Plug-in formats: VST, RTAS.
Power PC based Macintosh:
Minimal: 866 MHz G4 processor, 512 MB of RAM, Mac OS X 10.4 or later.
Suggested: dual 1.25 GHz G4 or G5 processor, 1 GB of RAM, Mac OS X 10.4 or later.
Supported Plug-in formats: AU, VST, RTAS.
Intel based Macintosh:
Minimal: 1.5 GHz Intel Core Solo processor, 512 MB of RAM, Mac OS X 10.4.4 or later.
Suggested: 1.66 GHz Intel Core Duo processor, 1 GB of RAM, Mac OS X 10.4.4 or later.
Supported Plug-in formats: AU, VST, RTAS.
Legal Detail
SampleTron is a trademark property of IK Multimedia Production. All other product names and trademarks are property of their respective owners, which are in no way associated or affiliated with IK Multimedia. All names of products, artists, bands and records are used solely for the purpose of identifying the specific products that were studied during IK Multimedia's sound model development and for describing certain types of tones produced with IK Multimedia's digital modeling technology. Use of these names do not imply any cooperation or endorsement.
Mellotron ia a registered trademark property of David Thomas Kean.
360 Systems is a registered trademark of 360 Systems Corporation California.
Roland is a trademark property of Roland DG Corporation Japan.
Same Day Music is an authorized dealer of
IK Multimedia
products.