Same Day Music is an
authorized IK Multimedia dealer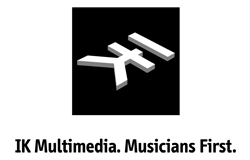 The new T-RackS 3 raises the bar again in high-end DAW mastering and mixing, with a suite of 4 digital Dynamics/EQ processors, an audio quality that is unmatched in software, and scores of new and unique features.
Modular High-End Mastering/Mixing Suite of Dynamics and EQ processors, including:
4 classic T-RackS processors.
New configurable mastering/mixing chain - run up to 12 parallel/series processors
New complete built-in metering section with Peak, Perceived Loudness, Phase, and RMS meters, plus a Spectrum analyzer with Peak, RMS and Averaging indicators
New standalone and plug-in versions available in the same package for use in all the most popular native DAWs
New high-fidelity oversampling with crystal clear transparency, for high quality audio processing throughout the entire signal path
New SCC(tm) technology coupled with IK's unique DSM(tm) technology provides the most realistic software emulation of vintage gear to date
Extremely easy to use, with style-based presets, full chain visualization, one-click single module or chain bypass, "compare" function, multiple audio processing in standalone mode and much more
T-RackS 3 has all the tools you need to create superb, tube-toned or digital-tuned, mixes and masters. Its rich, warm sound combines new tube-modeled and state-of-the-art digital processors on top of its classic top-notch analog classics. A new modular chain gives you full control and easy navigation/compare features. A new complete metering section keeps all the most important variables of your sound under control. A truly superior mastering and mixing system that will put a polish on your tracks you may have never thought possible. All this, while adding the beautiful warmth and space of the tube devices it emulates. No other plug-in offers this kind of dedicated environment for such an important task, and nothing sounds like T-RackS 3.
4 T-RackS classic processorsClassic T-RackS Compressor
Classic tube stereo compressor/leveler designed for mastering.
Classic T-RackS Multi-band Limiter
Multiband master stereo limiter.
Classic T-RackS Clipper
Soft-clipping stage to create warm, saturated mastering effects.
Classic T-RackS Equalizer
State-of-the-art six band parametric equalizer, modeled on classic top quality analog gear. Classic T-RackS Equalizer can now be used in Stereo or MS modes.
These are all of the original T-RackS modules that achieved cult status. They maintain their great original sonic character, and have only been improved upon to line them up with the absolute "no compromise" in sound quality of the T-RackS 3 signal path.
Classic T-RackS Equalizer can now be used in Stereo or MS modes.
Modular mastering/mixing solution with 12 processing slots
New, selectable 12-processor slot audio chain, arranged in two rows of 4 slots for parallel processing plus 4 serial final slots.
Modules can be easily switched on/off with a single click, individually or all at once, at any time for quick a/b on the monitored audio, without having to navigate or scroll around.
Single module or global chain visualization options
A "compare" function with volume matching allows comparison between the sound of the processed version and the original, so that you can really judge the sound changes, and not be mislead by a volume increase.
Accurate, complete and truly useful Metering
T-RackS 3 includes a new high quality, high precision, complete metering section. This includes:
- A precision three-scale Peak meter with accurate sample indicators and real digital "Over" indication.
- Real Perceived Loudness meter. This is an amazingly useful meter that is not included on most software processors. It shows the REAL loudness that will be perceived on your masters. Compare your preferred records with your works on this meter, and you'll immediately see where to go with loudness management.
- Phase scope, with options to match the style and indication you're used to
- Phase correlation
- Spectrum analyzer with Peak, RMS and Averaging indicators.
- RMS meter.
- Loudness and RMS metering "optimal" zones' indication, selectable by genre and style.
All-platform plug-ins and standalone versions in the same packages
- Plug-ins fully integrate with all of today's popular DAWs
- Standalone mode allows for loading multiple audio files, previews them with all-independent settings and processes all of them with a single click
- Standalone mode includes extremely high quality sampling rate conversion to write 44.1 kHz CD files, starting from any sampling rate
- Built-in dithering with various options
- Automation made easy: you can take snapshots within each song and automate processing parameter changes during the song, for example, when passing from verses to choruses, etc, all with a single click
- Non-destructive basic audio editing
High transparency, extremely high quality audio processing throughout the whole signal path
You may think digital processors are transparent in general, and of a quality high enough for audio mastering. That's not always true. Very simple processing like a filter or a dynamic gain change can literally ruin your sound without any possibility of rescue if it's not performed at the highest possible quality.
T-RackS 3 delivers incredible purity, transparency and fidelity that is far superior to the vast majority of plug-ins you could compare it with. If you are familiar with the sound of top quality analog and digital hardware equalizers that are used daily in top mastering houses, you'll immediately recognize the quality and purity typical of those units here, and if you're not, you'll experience what high quality equalization means.
Oversampling perfected. Many digital processors use oversampling to achieve better sound. Unfortunately, many of them, under critical listening sessions, can be found to achieve no significantly better (or even slightly worse) results than the regular sampling rate option. This is because the upsampling and downsampling processes are not done at an adequate level of quality, in other words: typically what is improved by running a processor at double sampling frequency is partially compromised by the loss of quality in the upsampling and downsampling process. There are only a few pieces of gear, mainly extremely expensive hardware that really realize oversampling the way it should be done. T-RackS 3 is one of them. We wanted to offer the same quality of the highest caliber mastering tools, and the result is a process that has no side effect at all on the sound: total transparency. So what you hear is exactly the same sound of the processor running at double sampling rate, with no side effects.
NEW SCC technology
With over 10 years of experience in analog-modeled software, IK has pioneered this technology and accumulated more experience than any other plug-in manufacturer in the field. This has resulted in several improvements like our unique DSM (Dynamic Saturation Modeling) and now the new SCC (Sonic Character Cloning). SCC has been developed to "clone" the true behavior of an analog vintage processor down to its finest level of sonic detail for a faithful reproduction of all its tonal characteristics. This new emulation technology produces results that are indistinguishable from the originals, even for the professionally trained ear.
Many pieces of vintage gear tend to have original and interesting circuit topology, due to the creative solutions that engineers were sometimes forced to put into place in order to overcome the limitations of components' technology. Vintage components' technology (many of which can't be found anymore because their technology became obsolete and un-economical) as well as their aging (some of the best sounding devices are 40-50 years old) played fundamental roles in giving these devices a unique musicality that is what the purist would define to be "the unmatched" by even the most advanced processors today. And finally, many of the unique sonic characteristics of these magnificent vintage units sometimes depended on erratic and unpredictable behavior of their electronics that would be considered unorthodox and unusable by today's science and standards.
SCC technology has the ability, through a new analysis method developed by IK, to integrate all of the above and turn it into a mathematical algorithm that, for the first time, is able to take into consideration all of these complex variables and get an exact "clone" of the original. This is software emulation evolved to a sound quality never heard before. Sounds so close to the real thing that you won't be able to tell the difference.
Same Day Music is an authorized dealer of
IK Multimedia
products.
System Requirements
Power PC based Macintosh
Minimal: 866 MHz G4 processor, 512 MB of RAM, Mac OS X 10.4 or later.
Suggested: dual 1.25 GHz G4 or G5 processor, 1 GB of RAM, Mac OS X 10.4 or later.
Supported Plug-in formats: AU, VST, RTAS.
Intel based Macintosh
Minimal: 1.5 GHz Intel Core Solo processor, 512 MB of RAM, Mac OS X 10.4.4 or later.
Suggested: 1.66 GHz Intel Core Duo processor, 1 GB of RAM, Mac OS X 10.4.4 or later.
Supported Plug-in formats: AU, VST, RTAS.
Windows
Minimal: Pentium 1GHz / Athlon XP 1.33 GHz, 512 MB of RAM, Windows XP / Vista or later.
Suggested: Pentium 2.4 GHz / Athlon XP 2.4 GHz, 1 GB of RAM, Windows XP / Vista or later.
Supported Plug-in formats: VST, RTAS.
Same Day Music is an authorized dealer of
IK Multimedia
products.