Same Day Music is an
authorized Ion Audio dealer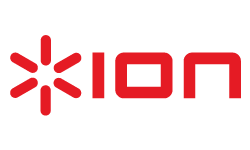 With the ION Audio Film 2 SD scanner, you can enjoy your favorite pictures at home or on the go. Rediscover your long-lost 35mm slides and film negatives with Film 2 SD. This high-quality scanner transfers your images directly onto an SD card so you can enjoy your old pictures with the latest technology. Thanks to Film 2 SD's large, full-color LCD screen, you don't even need a computer to make it work!
Features
- Transfer 35mm negatives and slides to an SD card
- Preview your image on the large color LCD screen
- High-resolution scanner
- Fast, one-touch scanning takes just one to two seconds
- Optional USB connection for Mac and PC
- Portable design with ultra-small footprint
- Auto-exposure and color balance
- Mirror, flip, and rotate controls
- Scans color and black & white slides and film negatives
- Works with virtually all SD, SDHC cards. Includes 2GB SD card
- Video output for viewing on an external video monitor
You can view your images on your digital picture frame, your television if it has an SD card slot, your mobile phone with a micro SD slot (SD-to-micro adaptor not included), computer, and other portable devices. Imagine all of your memories with you at home or anywhere you go.
Film 2 SD is fast and easy to use. Just one button starts the scan, which takes an average of one to two seconds! Convenient auto focus, auto exposure, and auto-color balance mean you don't have to be a photo whiz to make great digital images. Film 2 SD does all the hard work for you.
Film 2 SD has a built-in SD card slot, so you can scan directly to most SD, SDHC, and micro SD cards without needing a computer. Film 2 SD comes with an SD card to get you started. If you have a computer, you can also connect Film 2 SD using the included USB cable. When connected to your Mac or PC, Film 2 SD becomes a handy SD card reader, so you can drag and drop your pictures from the card onto your hard drive.
Film 2 SD makes high-resolution, scans of all of your color and black & white slides and film negatives. Film 2 SD is portable, lightweight, and has an ultra-small footprint so you can take it with you and scan your friends' and family's pictures too. Start rediscovering your old pictures today with Film 2 SD.
ION Audio Film 2 SD Includes
- Film 2 SD scanner
- Negative holder
- Slide holder
- USB cable
- Power adapter
- Cleaning brush
- 2GB SD card
Same Day Music is an authorized dealer of
Ion Audio
products.
Image Sensor: 5-megapixel CMOS sensor
Lens: F no.=2.0, 4 glass elements
LCD: 2.4 in. color TFT LCD
Scan Quality: 1,800 dpi (3,600 interpolated)
Scan Method: Single pass
Light Source: Backlight (3 white LEDs)
Data Conversion: 10 bits per color channel
Exposure Control: Automatic
Color Balance: Automatic
Focus Range: Fixed focus
Internal Memory: 24 MB NAND Flash (for saving images)
External Memory: SD/MMC compatible
USB Configuration: Mass Storage Device Class / MSDC
Interface: USB2.0, TV-out (video 3.5mm jack)
Operating Systems: Windows XP / Vista
Power: 5 V adapter (included) or USB-powered
Dimensions: 82 x 86 x 152 mm
Weight: .39 kg
Optional computer requirements:
- Mac or PC with USB port
- Computer not required for operation
Same Day Music is an authorized dealer of
Ion Audio
products.