Same Day Music is an
authorized Ion Audio dealer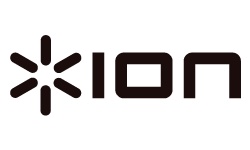 The Ion Audio iDJ 2 GO is the easiest way to become a DJ with your iPad, iPhone or iPod touch. iDJ 2 GO makes it easy to put on a bumpin' show wherever you go. The iDJ 2 GO system harnesses the processing power of your iPad, iPhone or iPod touch and enables you to DJ anywhere using the music from your iTunes library.
ION has also worked with Algoriddim, the makers of the incredibly popular Djay app, to bring support for iDJ 2 GO to djay for iPad, iPhone and iPod touch. Mix your iTunes music library on a hyper-realistic turntable interface. Perform live, record mixes on-the-go, or enable Automix mode and let djay mix your favorite playlist automatically. With unprecedented ease-of-use and innovative multi-touch mixing features, djay for iPad takes DJing to the next level.
iDJ 2 GO gives you real DJ capability that can't be matched by DJing on your iOS devices 's screen. iDJ 2 GO is laid out to carefully recreate the two-decks-and-a-mixer setup that professional DJs prefer. You'll be able to mix, scratch and perform like a pro using iDJ 2 GO's two scratch wheels, crossfader, and generous array of bright, backlit buttons. Connect your iOS device in seconds using the built-in 30-pin connector, and everything you need to mix is right in front of you. Just load your tracks to either Deck A or Deck B using a compatible DJ app, and then start mixing and performing amazing transitions that keep the music moving all night long.
Experience your music like never before with iDJ 2 GO from ION.
Features:
- Everything you need to create the perfect mix with your music
- Works seamlessly with Algoriddim's djay app for iPad, iPhone and iPod touch
- Authentic DJ controls including two turntables, audio effects and a crossfader
- Browse knob for rapid search and track selection
- Portable, compact design for easy transportation
- Connects directly to iPad, iPhone or iPod touch -- no batteries required!
- Also works with ION's iDJ2GO app, a free download from the App Store
Includes:
- iDJ2GO controller
- Stand for iPad
- Quickstart guide
NOTE: iPad NOT included.
Note: This product uses a 30-pin Apple dock connector.
iPad, iTunes and App Store are trademarks of Apple Inc., registered in the U.S. and other countries. Algoriddim is a registered trademark of Algoriddim GmbH.
Same Day Music is an authorized dealer of
Ion Audio
products.