Same Day Music is an
authorized Ion Audio dealer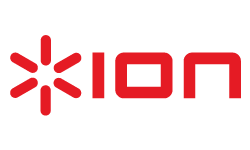 Drum Rocker delivers the most realistic drumming experience available to any gamer, regardless of platform. That's because it was built by the engineers at Alesis, one of the largest manufacturers of professional electronic drums in the world. As a result, you get a kit that's designed to take a real beating, with all the positioning flexibility that professional drummers demand. While other drum controllers lock you down to a pre-molded plastic array of pads, Drum Rocker's professional aluminum drum rack lets you position your snare, tom and cymbal pads wherever you want. When you're ready to move from playing Rock Band to playing in a rock band, you can swap the game controller module with one of the professional drum brains made by Alesis, and you're ready to hit the road for real!
Designed for Rock Band 2, the Drum Rocker also works great with the original Rock Band as well as any other game that uses the same standard drum controller mapping that Rock Band uses and that also includes Guitar Hero 4 World Tour.
Features
Officially licensed Premium Drum Set for Rock Band 2 video game
Low-noise, velocity sensitive pads
Fully-adjustable setup
Extremely durable
Expandable with third cymbal or second bass pedal
Can be used as a standalone drum kit when used with optional Alesis DM5 module
Can be connected to a PC to trigger sounds using the optional Alesis Trigger|iO
Ultra-quiet velocity sensitive pads.
Drum Rocker's velocity-sensitive drum pads feature a playing surface that is much quieter than other drum controllers. They also feel great - the stick rebound off of the pad is much more natural and consistent than anything else available. The pad housing is made of high-impact plastic, designed to be whacked on stage night after night. No matter how much you punish them, the Drum Rocker drum pads can take it.
The pads are mounted to the drum rack with a metal L-Arm and clamp system, which allows them to be tilted, swiveled, raised and lowered to whatever position you want. Just one warning - once you play these pads, nothing else will do!
Complete the experience with up to three cymbals.
There's nothing like finishing a monster fill by whacking a crash cymbal. Or crossing over to play your hi-hat with your right hand while you keep the backbeat on the snare with your left. Or keeping time on a ride cymbal during the chorus. Drum Rocker lets you do all that and more, with cymbals that can be placed anywhere around the kit.
Drum Rocker comes with two cymbals and mounting hardware out of the box. You get to decide how you want to use the two cymbals that come with the kit - set them up as a hi-hat/crash, crash/ride or hi-hat/ride combination, then add a third cymbal (not included) to round out the kit.
All-metal kick drum pedal.
The kick drum pedal with any drum controller takes a lot of abuse. No need to worry with Drum Rocker - this pedal is all metal and built to last! It's also got the right amount of tension to replicate the feeling of playing a real drum pedal, and we're even building an accessory pedal to allow for double-pedal setups.
The pedal comes with Velcro and retractable spikes, so you can be sure it will stay put. You're not limited to where you place it either - put the kick pedal wherever you feel most comfortable playing it.
Awards from the top critics!
ION Audio has also been awarded Best Hardware/Peripheral by the Game Critics Awards: Best of E3 (Electronics Entertainment Expo) 2008, for the Drum Rocker Premium Drum Set for Rock Band.
Note:
Some assembly required.
Same Day Music is an authorized dealer of
Ion Audio
products.
Includes
Complete drumset for Rock Band 2
Four gum rubber drum pads with mounts
Two gum rubber cymbal pads with mounting arms
Drum pedal
Game controller
Pro-quality drum rack for mounting all pads and controller
All necessary cables
One pair drumsticks
Value Pack includes:
-Drumsticks
-Hat
-Stick holder
Same Day Music is an authorized dealer of
Ion Audio
products.