Same Day Music is an
authorized Ion Audio dealer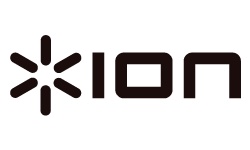 Get ready to shred like never before with ALL-STAR GUITAR from ION. ALL-STAR GUITAR is a full-size electric guitar that transforms your iPad into an amazing guitar-learning experience. Simply place your iPad into ALL-STAR GUITAR's fitted holder, open the ALL-STAR GUITAR app, and you're ready to go. ALL-STAR GUITAR can be played anywhere, as it requires no cables or external connections. Its built-in speaker lets you crank up and rock out anywhere! ALL-STAR GUITAR's strings can be strummed together or plucked individually, and its 14 rows of 84 fret-board buttons mean you can easily play thousands of songs.
Learn guitar faster than ever before: using the free included app, you can follow the lighted LED's on ALL-STAR GUITAR's neck and become a skilled guitarist in no time. The app even includes built-in effects, so you can make your ALL-STAR GUITAR sound classic, heavy or just plain outrageous as you crank up the distortion.* ALL-STAR GUITAR is compatible with dozens of popular iPad apps, including GarageBand. It even includes an adapter so you can use it with iPhone 4, iPhone 4S and iPod touch (4th generation).
Learning guitar on iPad has never been this much fun.
Features:
- Lighted fretboard and free ALL-STAR GUITAR app for instant rock stardom*
- Works with GarageBand and many other popular iPad and iPhone apps
- Secure, padded compartment for iPad with dock connector
- Built-in speaker with volume control -- rock out anywhere!
- Access to iPad headphone output for silent practice
- Works for both right- and left-handed rock stars
- Play electric, acoustic or bass guitar
Includes:
- ALL-STAR GUITAR
- Guitar Strap
- Quickstart Guide
- Adapter for iPhone 4, iPhone 4S and iPod touch (4th generation)
- (4) AA batteries
iPad, App Store and GarageBand are trademarks of Apple Inc., registered in the U.S. and other countries.
*ALL-STAR GUITAR app will be available as a free download from the App Store.
Note: This product uses a 30-pin Apple dock connector.
Works with iPad 1 or 2/3, all NOT included.
Same Day Music is an authorized dealer of
Ion Audio
products.