Same Day Music is an
authorized Ion Audio dealer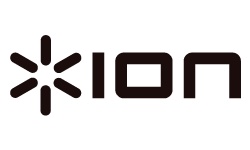 The Ion Audio iPICS 2 GO from ION is the easiest way to bring all of your memories into the digital realm using your hone 4 or iPhone 4S. With iPICS 2 GO, you can instantly digitize and share your classic prints, slides and negatives.
Sharing photos has never been easier. With digital cameras and social media, you have the ability to share your pictures in real time. But what about your printed pictures, old family slides and negatives? Sharing those pictures isn't so easy. Until now.
iPICS 2 GO removes all the hassle of digitizing your prints, negatives and slides. This mini photo booth is a simple solution that will bring your treasured pictures onto your iPhone 4 in seconds, ready to be shared with friends and family.
The process is simple: For prints, simply load the picture into the iPICS 2 GO photo tray, place the tray under the iPICS 2 GO photo booth and take a picture with your iPhone 4 camera. That's it, your picture is ready to be instantly uploaded to social media sites, emailed to friends, or stored in your digital archive. iPICS 2 GO comes with a free photo editing app* that converts your slides and negatives into sharable photos, and includes a Facebook button for instant sharing!
Get It Straight
The iPICS 2 GO photo tray is the key to its simplicity and speed. It features separate inlets for 3x5 and 4x6 prints that hold your photos perfectly straight, ready to capture. Each inlet gently holds your photo flat and prevents it from bowing. The design of iPICS 2 GO ensures consistency because your photos are always in the same position with the same lighting, and your iPhone camera is always in the same spot. There's no guesswork.
Light It Up
The iPICS 2 GO photo booth has built-in lighting that illuminates your photos evenly with no hotspots or glare. With the iPICS 2 GO photo tray in place, your photo is isolated from all outside lighting and interference, positioned perfectly for your iPhone 4 camera.
Don't Be So Negative
What could be better than rediscovering your classic family slides or finally making use of those old negatives? Let iPICS 2 GO bring all of those old memories to life. Simply load in your slides or negatives and slide the tray into iPICS 2 GO. iPICS 2 GO even includes a free app for your iPhone 4 that allows you to edit your slides and pictures and invert your negatives into actual photos! Imagine your family's reaction when you send a text message with that classic photo, brought back to life.
Features:
- High-resolution picture scanning with your iPhone 4 or iPhone 4S
- Works with 35mm negatives, slides, and both 3x5 and 4x6-inch pictures
- Includes a powerful editing app for converting slides and negatives into sharable photos
- Free app includes Facebook button for instant sharing
- Top platform holds iPhone 4 at optimal height and automatically positions camera
- Built-in LED lighting: no hotspots, glare or flash burn
- Custom lighting and photo tray makes photo positioning quick and easy, eliminating guesswork
- Battery powered for easy set up
Includes:
- 3x5 and 4x6 Photo Holder
- 35mm Slide and Negative Tray
- Quickstart Guide
- Safety and Warranty Manual
- Four AA batteries
Load it. Scan it. Share it. Make your memories mobile with iPICS 2 GO from ION.
NOTE: iPod/iPhone NOT included. Requires iPhone 4 OS
iPhone is a trademark of Apple Inc., registered in the U.S. and other countries. Facebook is a registered trademark of Facebook, Inc.
*Free photo editing app downloads via App Store.
Same Day Music is an authorized dealer of
Ion Audio
products.