Same Day Music is an
authorized Ion Audio dealer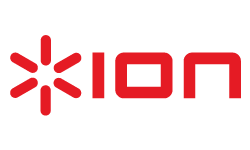 Enjoy your music anywhere. Turn your classic records into compact discs and MP3s with the Ion Audio iT18 CD Direct Conversion Turntable. Compact Discs and MP3s are the most convenient formats for enjoying your music. Now, with CD Direct from ION Audio, you have the ability to make all of your vinyl records into convenient, portable CDs and MP3s. With CD Direct there's no need to purchase all of your favorite music again just to have it in a portable format. CD Direct makes converting all of your records quick and easy.
CD Direct features a belt-driven turntable that plays records at 33 1/3, 45 and 78 RPM speeds. It also transfers music from your vinyl records directly to a CD* using its built-in CD burner. If you prefer MP3s, CD Direct has that covered too. Included EZ Vinyl Converter software enables you to easily convert your vinyl records into MP3s for use on your iPod or other MP3 players. CD Direct connects directly to your computer via one simple USB cable for quick LP audio transfer and conversion. Plus, CD Direct has built-in speakers, so you can use it as a tabletop player for all your records and CDs.
CD Direct is all you need to convert your vinyl albums into digital formats.
Features
- Turn your vinyl records into CDs -- no computer needed!*
- Connect to your PC or Mac and make your records into MP3s
- Built-in speakers allow you to listen to your CDs and vinyl records
- Plays 33 1/3, 45 and 78 RPM speeds to accommodate your entire record collection
- EZ Vinyl Converter software and USB cable included
Includes:
- CD Direct
- Quickstart Guide
- User Manual
- USB Cable
- Software CD
* Burns audio CDs only.
Note:
Some assembly required.
Same Day Music is an authorized dealer of
Ion Audio
products.