Same Day Music is an
authorized Ion Audio dealer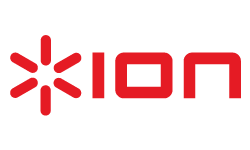 The Ion Audio DUO DECK USB Turntable with Cassette Deck lets you play and convert your favorite records and cassettes anywhere. In the car, on your desk, even in your backpack: DUO DECK is a turntable and cassette player that can fit virtually anywhere and go everywhere.
Powered by four AA batteries and featuring a built-in speaker and an incredibly compact design, DUO DECK is ready to move. Bring it outside, on trips, to college, even to the beach. DUO DECK has everything you need to enjoy your vinyl or cassette collection wherever you are.
It's the no-clutter desktop turntable and cassette deck: DUO DECK is equally suited to be your ideal home or office record player. Set DUO DECK on your desk and use the included USB adapter for power. You can even use the 1/8" headphone output to listen to your records without disturbing others, or expand your sound by connecting DUO DECK to a speaker system.
DUO DECK makes your music portable in more ways than one. Connect DUO DECK to your Mac or PC using the included USB cable and you're ready to transfer your music and convert it to MP3s. Plus, EZ Vinyl / Tape Converter software is included to make the process as easy as possible.
Get your music moving with DUO DECK from ION Audio.
Features:
- Compact, portable design fits easily into a bag or backpack
- Plays and converts vinyl records and cassette tapes
- Built-in speaker allows you to listen to your records or cassettes anywhere
- Convert records and tapes into MP3s using the included EZ Vinyl / Tape Converter software
- Headphone output for private listening or connection to external speakers
- Plays and converts 45 and 33-1/3 RPM records: 45 adapter included
- Plays and converts both normal and chrome cassette tapes
- Onboard light makes finding the groove quick and easy
- Retractable tone-arm clip for secure, compact travel
- Powered by batteries (not included), USB connection or wall adapter (included)
Includes:
- DUO DECK
- Quickstart Guide
- Safety Instructions & Warranty Information Booklet
- EZ Vinyl / Tape Converter Software CD
- Pre-mounted Needle
- Pre-mounted Slipmat
- 45 RPM Adapter
- USB Cable
- Power Supply
Same Day Music is an authorized dealer of
Ion Audio
products.