Same Day Music is an
authorized Jet City Amplification dealer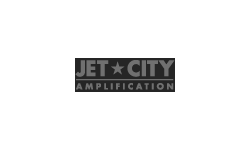 The JetStream Isolation cab from Jet City, loaded with an Eminence custom 12-inch speaker, allows you to record in some of the worst conditions known to man. Crank your amp way up and let the isolation chamber capture the volume so you can get the tubes in your amp to that sweet spot that can only be achieved at higher volumes. The JetStream also keeps your mic away from unwanted room reverberation so you won't have to worry about unwanted room modes you get in many home studios.
Features
- 12 inch Eminence Custom Speaker
- For Recording or Live Applications
- Crank your tube amp in a home recording environment
- Reduce stage noise in small but loud venues
- Gooseneck mic attachment for easily positioning your mic to the sweet spot
-
Microphone not included.
Live Applications
The JetStream ISO cab is a lifesaver on stage at smaller venues while keeping your full-volume tone and saturation. Feed the XLR output to the mixer, pump your amp to full volume and let the soundman feed you back through the monitors so you can get the fullest tone out of your amp at a lower volume and bring down your over-all stage volume at the same time.
Easy to Use
Plug your tube amp into the speaker input, and set up your amp tone -- go ahead and turn it up! Clip in your favorite guitar-recording mic and position it how you prefer. Then close up the JetStream's front door, greatly reducing the sound level in the room. Connect the JetStream Iso cab's XLR output to a recording workstation and capture screaming amp tones without waking the neighbors, or send it to the front-of-house PA system for a cranked amp quality at a controlled listening level.
Same Day Music is an authorized dealer of
Jet City Amplification
products.
Specs:
Inputs: (1) 16-ohm - 1/4"
Outputs: (1) XLR microphone level output
Power handling: 100 watts RMS
Cabinetry: Void-free plywood
Drivers: (1) 12" Jet City Custom Eminence driver
Dimensions: 34" H x 18" W x 18" D
Weight: 55lbs net
Same Day Music is an authorized dealer of
Jet City Amplification
products.