Same Day Music is an
authorized Joemeek dealer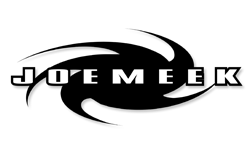 The Joemeek twinq2 is everything you ever wanted in a dual studio channel - and then some!
Upgraded Features:
The microphone input transformer is permanently assigned to the "Mic" Input. The "IRON" switch now optionally sends the "Line" input through the transformer, to add some coloration to Line sources.
The input "GAIN" control now operates over the range 18 dB to 60 dB, with improved resolution in the crucial 25 dB-45 dB range. Microphone inputs up to +4 dBu can be accommodated without distortion (+24 dBu by using the "PAD" switch).
As before, with the "LINE" input selected the gain is unity (0dB) at the top of the dial; the gain range is now -19 dB to +22 dB.
The "INSTRument" input now has a gain range of 0 dB to +40 dB.
"PEAK" LEDs now light at +16 dBu (2 dB below Full Scale Digital).
They started with high quality Burr-Brown IC's for the preamp, added an extremely musical EQ section and an optical compressor for that signature "Meek" sound. Then Joe Meek included some new and innovative features, like an "Iron" switch that switches the IC front end to a transformer - completely changing the topology of the circuit. It even has 96 kHz/24-bit, A/D converters built in.
All of this comes housed in a rugged two space chassis with a beautifully sculpted aluminum faceplate. With sonic quality rivaling mic pre's priced thousands of dollars more, the twinq2 sets a new standard for dual channels!
Digital Interface
The Joemeek Digital Audio Interface provides high quality digital audio outputs plus the ability to synchronize to an external word clock. The digital audio outputs are compatible with most digital recorders, as well as Digital Audio Workstations and mixers. S/PDIF format is available from the RCA phono connectors, while the transformer coupled XLR connector provides an AES3 compatible output.
The Joemeek Digital Interface has highly stable onboard master clocks for low-jitter, hi-fi results. Internal sample rates of 44.1kHz, 48kHz, 88.2kHz or 96kHz are selected by means of rear panel switches. 44.1kHz is the standard used for audio CD's, while 48kHz and 96kHz are widely used in recording studios. In general, the higher the sample rate, the better the audio fidelity, but the more disk space is required for the recording. For example, recording at 96kHz requires twice as much storage as 48kHz. Consult the manual of your recorder or DAW as to what sample rates it will accommodate.
Alternatively the twinq2 may be set to the frequency of an external master word clock, generated, for example, by the studio's recorder or DAW. When connected to the BNC socket provided, a suitable external word clock will be detected automatically and will override the twinq2's internal word clock.
The front panel LED labelled 'EXT CLK' illuminates when the twinq2 is successfully locked to an external word clock. To avoid distortion, care should be taken not to overdrive the input to the Digital Interface. The red LED next to the Output Gain control is labeled "PEAK FSD" which stands for "Full Scale Digital".
Same Day Music is an authorized dealer of
Joemeek
products.
- Input impedances: Mic: 1.2 kohm; Line: 10 kohm
- Pre-amp overall gain: -2 dB to 60 dB
- Common mode rejection: 70 dB
- Equivalent input noise: -128.5 dBu (unweighted)
- Distortion: 0.001% (below Compressor threshold)
- Frequency response: 10 Hz to 70 kHz (-3 dB)
- Maximum input before clipping: Mic: +24 dBu, +45 dBu
- Headroom before clipping: +29 dBu
- Compressor threshold: -6 dBu to -22 dBu (variable)
- Compressor ratio: 1:1 to 10:1 (variable)
- Compressor attack time: 1 msec to 100 msec (adaptive)
- Compressor release time: 0.1 sec to 3 sec (adaptive)
- Nominal output levels: +4 dBu/-10 dBv
- Output impedance: 75 ohm
- Output Level switch: 12 dB attenuation
- Noise Floor: -85 dBu (typical, with ~40 dB mic gain)
- VU Meter: Analogue movement
- Power supply: 115V / 230V ac mains, 50/60 Hz
- Power consumption: 30 W
- Mechanical: 482 W x 88 H x 220 D (overall)
- Weight: 6.6 lbs.
- High Pass Filter: 12 dB per octave cut below 80 Hz
- EQ Boost & Cut: +/-15 dB (zero phase-shift bell response)
- LF Frequency: 40 Hz to 65 0Hz variable
- MID Frequency: 300 Hz to 5 kHz variable
- HF Frequency: 6 kHz/12 kHz switchable
Digital interface specifications
- Sampling: 24-bit
- Resolution: 24-bit delta sigma using Wolfson WM8738 ADC
- Sampling Rate: 44.1 kHz, 48 kHz, 88.2 kHz or 96 kHz selectable
- Output Formats: AES3 compliant (balanced), S/PDIF electrical
- Oversampling: This is [sample frequency divided by twice the bandwidth]. So for a 20 kHz bandwidth sampled at 96 kHz, oversampling = 2.4x.
- However the term oversampling is sometimes confused with [clock frequency divided by sample rate]. In the DB-1 that would be 256 x at 96 kHz
- Noise Floor: Typically 92 dB A-weighted (referenced to 0 dBFS = +18 dBu). So for a +4 dBu signal, the SNR is 78 dB
- Distortion: typically 0.01% @ 0d Bu (20 Hz - 20 kHz) at 96 kHz sample rate
- typically 0.02% @ 0 dBu (20 Hz - 20 kHz) at 48 kHz sample rate
- typically 0.02% @ -1 dBFS (20 Hz - 20 kHz) at all sample rates
- External Word Clock input: 75 ohm, 1.25 V - TTL level, 44.1 kHz to 96 kHz (auto synchronising)
- Crosstalk: typically -67 dB (20 Hz - 20 kHz)
Same Day Music is an authorized dealer of
Joemeek
products.