Same Day Music is an
authorized Kemper dealer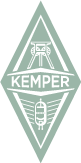 The Kemper Profiler Amplifier is a groundbreaking concept for guitar amplification using digital technology. They believe that every guitar player should be able to transfer his personal signature sound into a single lunchbox-format amplifier.
The Kemper Profiler Amplifier digitally captures the sonic fingerprint of virtually any guitar amp. The days of struggling to reproduce that magic mic position in front of the speaker cabinet are over. Now you can have a profile for every combination of tones and settings your tube amp setup provides. The Kemper Profiler Amplifier offers a convenient and accurate A/B comparison mode so you can be sure that all your profiles are just like the original amp. If you have used some great-sounding, well-maintained vintage tube amps in the studio, you can create profiles from these amps to use anywhere you like, at any time. Profiles can be spiced up with the Kemper Profiler Amplifier's included professional quality effects; you can save variations with alternative amp settings, and you can exchange the cabinet simulation within a Profile at any time.
Do you plan on touring? Simply dial up your Profiles from the studio session when you play live. Instead of having to risk bringing a truckload of rare and fragile vintage amps to the gig to get your sound, now you can profile your amps before the tour, and just bring the Kemper Profiler Amplifier with you on the road! The Kemper Profiler Amplifier gives you what generations of guitar players have been waiting for: the ability to have your sound anytime, anywhere.
What is Profiling?
"Profiling" is what they have named their proprietary technology that captures the sound and feel of a specific tube amplifier. In other words, the Kemper Profiler Amplifier doesn't simply give you a list of static digital amplifier reproductions. Instead, profiling creates a vivid, living, dynamic and multi-dimensional image of your existing tube amp.
Profiling is as simple as plugging your tube amp into the Kemper Profiling Amplifier and pressing 'record.' Just insert the Kemper Profiler amplifier into the recording chain and it will do its magic. Test signals will be sent from the Kemper Profiler Amplifier into your tube amp and recorded by the microphone in front of your cabinet.
You don't even have to play your guitar. After less than a minute the Kemper Profiler Amplifier acquires the sonic DNA of your tube amp and offers you the resulting custom profile. You can then use the A/B comparison mode to compare original tube amp sound with the profiled sound. This gives you a fast and convenient way to make final tweaks to the profile to get it exactly right.
How does the profiling technique compare to classic modeling?
It took them several years of research and development to have the Profiling algorithm up and running. This chapter might be of interest for the more technically-minded amongst you.
Initially, they focussed the attention on existing and well-documented techniques, most of which fall under the heading "Dynamic Convolution". Even though these approaches seemed very promising at first glance, and certainly useful for recreating simple, soft distortion circuits, they were by no means adequate for complex guitar amplifiers with heavy distortion. Reality has shown that no other company has managed to create a profiling amp by these methods so far.
Other well-known modeling methods, such as a distortion devices framed by a pre- and post-equalizer, have been used in modeling amps of the first generation. They deliver reasonable results, but the sound still lacks complexity, depth and feel; furthermore, these methods don't qualify for an automated profiling procedure.
So, they had to go much deeper and, in the process, developed their own technology. A tube amp has dozens of dimensions in sound; consequently, the equation of the profiling algorithm needed dozens of variables to exactly recreate the sound and feel of the original amp.
They spent considerable time researching the dynamic behavior of the tube. It was also necessary to study the interactions between the tube and surrounding circuits, which become very complex when the tube starts to distort. They were lucky to find a way to extract this exact tube behavior by analyzing the intermodulation products of crossing sine sweeps. The relation between the intermodulations and the unprocessed sine sweeps tells the full story about the distortion shape and dynamic of the tube and the behavior of the surrounding circuit. It can even deliver the information about several distortion stages in a row, so long as there is only one stage significantly distorting. This measurement is independent of the frequency response of the amplifier. Once the distorting part has been analyzed, it can be separated from the transfer function. The frequency response of the cabinet is then easy to determine and separate.
Aside from the ease of profiling the whole amp, there is another good reason not to analyze the amp part by part: they capture the sound of every component at the place where it belongs, including all interactions between the components.
Amp Controls
The Kemper Profiler Amplifier includes the standard Gain, Bass, Middle, Treble and Presence controls that you would expect from an guitar amplifier. However, in contrast to many vintage amps, they have kept the gain control neutral, so you are able to find the sweet spot of your amp, and run this optimal sound at any gain level.
The gain control ranges over 80dB and features an automatic volume compensation for clean settings.
Now, imagine if you could change the sonic character of a profile way beyond what's possible with the amp itself.. What if you could change the sonic age of the amp, or the bite of the pick? What if you could modify the power supply of your profiled amp in order to benefit from power sagging or be larger than life? With the Kemper Profiler Amplifier, you can! They allow you to dynamically adjust key aspects of your favorite amps which would otherwise be impossible or require hardware modifications. You can do anything from minor tweaks, such as making your Marshall Bluesbreaker profile sound a bit more vintage, to more radical changes such as adding some modern high gain chunk to your vintage Fender Bassman.
The Stack
The Amplifier Section
The Amplifier section is the heart of the Kemper Profiler Amplifier. The sound of the amplifier is based on the profile loaded into the rig. A great selection of intuitive and powerful macro parameters empowers you to perform modifications which are impossible with an traditional hardware amplifier.
Many things become possible from changing the age of the virtual hardware to the response to your play. You gain direct access to tube settings, such as the tube symmetry.
The Equalizer Section
The Kemper Profiler Amplifier is equipped with a traditional bass / mid / treble / presence equalizer similar to what you already know and love from many amp heads. They found that many equalizers used in the tone stack section of more or less famous amplifiers lack of grip and blur your sound in an unnecessary fashion.
That's why they've decided to go with their own, original design which is based on a traditional tone stack but delivers what you expect from a modern pro-grade equalizer.
The Cabinet Section
The Kemper Profiler Amplifier captures the cabinet as a part of a profile. Thanks to digital alchemy they can distinguish in between the cabinet and the amp head within a profile and therefore enable you to mix and match both in which ever way you like. Imagine you can exchange cabinets freely in between amps, even though those amps were combo amps before. You can even warp cabinets from "tiny as a cigarette box" to "larger than life" with one parameter.
The Effects
The Stomp Boxes
The Kemper Profiler Amplifier offers 4 independent stomp effects slots which can host a full arsenal of stomp box effects including painstakingly modeled famous overdrive and distortion stomp boxes, compressor, reverb, several delays and LoFi algorithms, and a beautiful rotary speaker emulation.
They've also created accurate models of classic retro modulation effects such as a variety of chorus, phaser and flanger pedals. In the creative department are sonic decimators such as bit- and sample-rate reducers and a ring shifter, among many others. All stomp effects can be edited and copied conveniently between presets. And for your overview and convenience, they use color coded LEDs indicating which type of stomp has been used per slot.
Looping In and Out External Effects
The Kemper Profiler Amplifier includes an external effects loop which you can patch in anywhere among the virtual stomps boxes. The location and other details can be stored per rig. The monitor outputs also can serve as a pure analog buffer amp for re-amping.
The Master Section
The master effects section features reverb, delay and additional slots for stomp boxes and studio effects to refine your amplifier's tone. The six knobs on the front panel offer convenient access to the most important settings. The reverb section features a dense and lively reverb algorithm which won't mask the original signal. The delay section features several tape and stereo delay algorithms which can be synched to MIDI clock.
Get Connected
The Input Stage
Thanks to a Hi-Z input optimized for passive guitar pickups, the Kemper Profiler Amplifier offers a crystal clear signal path. They use only professional-grade analogue components to ensure that your guitar tone remains unchanged.
They include a single-knob smart noise gate on the front panel that is completely transparent. It's faster than any other noise gate they have experienced and doesn't need an adjustment of the release time. Damping a string results in immediate silence.
The Output Stage
The Kemper Profiler Amplifier features two independent main outputs which can be used in multiple ways. The mains feature a balanced studio level connection and a parallel pair or TSRs. The monitor output optionally provides the amplifier's sound without the cabinet. This proves beneficial for musicians with an existing power amp / cabinet on stage.
Ground Lifts
In order to seamlessly integrate the Kemper Profiler Amplifier into an existing studio and live sound environment, they've included several ground lifts to allow you to easily deal with possible hum and grounding problems.
Manage your performance in style
Browse Rigs and Perform
The Kemper Profiler Amplifier comes with two play modes. The "Browser" mode assists you in quickly finding the right rig thanks to its sophisticated sort and search functions. The "Perform" mode arranges your rigs according to the set list you'll play tonight. Perform mode focuses on overview - think of a Performance like a lead sheet which allows you to collect, order and name all the rigs you need for a certain song.
In both modes the bright LCD display gives you a full overview of the chosen rig. The six rotary encoders below the display become controllers for the gain, EQ, and master volume.
The Archive
The Kemper Profiler Amplifier makes it easy for you to share your personal library with other users. Rigs and Profiles are small files which include your name and numerous other details which can be used to filter and search for a specific rig. You can then exchange profiles either through the official Kemper-Amplifier website profile exchange, emails, or other online forums and services. The Profiler is equipped with intuitive search and filter functions allowing you to maintain a great overview of the growing library of custom profiles and rigs from around the globe.
Editing with a breeze
Analog endless potentiometers
The analogue endless potentiometers offer the best of both worlds. They provide the smooth feel and high resolution of an analog pot, yet are as intuitive to use as a rotary encoder. Need to increase a value? Simply turn the knob to the right - no need to worry about the current position. You have precise control over your sound, yet can still make extreme value changes with a single rotation. In other words, those are engineered for musicians, not for technicians.
LED color code
The status lights of the stomp boxes and effects on the front panel can change their color depending on the category of effect chosen. For instance, distortion effects are red, compressors are represented by a turquoise LED. This little details enhances your overview greatly. You can literally just look at the Profiler without reading the display and you already know which stomp boxes shape the sound.
Undo
When designing sounds, you often move one step forward and two step back again. As one idea triggers the next one you refine your original idea and change your mind. The Kemper Profiler Amp offers multiple undo and redo steps so you can always return to a previous stage. It also introduces the concept of snapshots.
Snapshots are backups of entire rigs and those are automatically generated for everything that would be lost otherwise. For instance, a snapshot is created when you store over an existing rig. This way you can go back to what you've overwritten earlier on at any point in time.
The Lock Button
Lock allows you to secure a certain aspect of a rig against overwriting. Here's an example: You're planning to play a lick with a specific tempo sync'ed delay. You're happy with the delay settings but unsure about the amp and cabinet you're using.
There are many applications for the Lock function:
Keep the amp section unchanged while browsing through the effect settings of the presets. Or the opposite: Keep the effects while browsing through the amp settings of the presets. Lock a compressor stomp in the stomp section for every preset, as long as you want. Make individual settings (gain, noisegate) for two or three guitars in the input section, that remain unchanged when you change presets. Switch off delay and reverb on every preset for a day in a studio, where you might use outboard equipment.
Copy and Past are designed to copy stomp boxes in between slots or rigs. In fact you can pretty much copy everything between every logical destination -it doesn't matter if it's a stomp box, a rig or a performance.
Same Day Music is an authorized dealer of
Kemper
products.