Same Day Music is an
authorized Korg dealer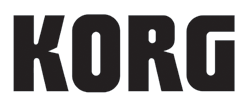 Compact, yet serious. The Korg MICROMETRO clip-on metronome. The Korg MICROMETRO Digital Metronome packs high-precision Korg metronome features into a compact body. Available in both red and blue, the MICROMETRO's clip-on design lets you easily enjoy rhythm training wherever you go!
The tempo can be adjusted over 39 steps matching the values marked on a mechanical metronome's pendulum. In addition, ten different beat patterns can be selected.
The metronome volume can be set to Loud or Soft - or even muted - to suit different environments. The current tempo is also indicated by the flashing LED. This combination of visual and audible cues makes it easy to follow the tempo. For discrete use, the sound may be muted completely, providing a visual-only tempo indicator. The current tempo and beat pattern are retained even when the power is off, allowing you to quickly recall your favorite settings.
(When the battery is replaced, these settings will return to their default state [tempo: 128, beat: 4].)
Specifications and features are subject to change without notice.
Same Day Music is an authorized dealer of
Korg
products.
- Tempo Range: Quarter note = 40 to 208BPM (pendulum step)
- Beat & Rhythm: Beats: 0, 2, 3, 4, 5, 6, 7
- Rhythms: duplets, triplets, quadruplets
- Tempo Accuracy: +/-2%
- Volume Level: Soft, Loud, Mute
- Power: CR2032 lithium battery (3.0V) x1
- Battery Life: Approximately 300 hours (Continuous use at Volume level = Loud, 120BPM, quadruplets)
- Color Variations: RED (MCM-1RD),
- BLUE (MCM-1BL)
- Dimensions: 45 (W) x 45 (D) x 22 (H) mm / 1.77" (W) x 1.77" (D) x 0.87" (H)
- Weight: 23g / 0.81oz. (including battery)
- Accessories: CR2032 lithium battery (3.0V) x1 for checking operations
Same Day Music is an authorized dealer of
Korg
products.