Same Day Music is an
authorized Lexicon dealer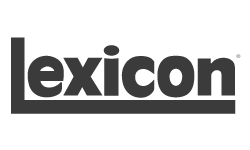 The MX200 has a user interface that is equally at ease in the studio or concert hall, with a unique VST software interface via USB connection to recording programs, offering high flexibility and the classic Lexicon sound.
The MX200 Dual reverb/effects processor. This single rack-space, two-channel unit combines an intuitive front-panel design with a unique USB connection and VST interface for use with software recording platforms. Featuring a wide array of the rich, complex reverb algorithms Lexicon is noted for, with delays, effects and dbx dynamics, MX200 is the perfect package for the home studio or the concert hall. In any application, the MX200 offers versatility and instantly accessible reverb, dynamics and special effects with the signature Lexicon sound.
In the studio, engineers, producers, and musicians no longer have to compromise between the instant control they enjoy with plug-in effects and the warm, complex depth of a dedicated hardware-based processor. They'll find both in the Lexicon MX200, which provides a USB interface with an intuitive cross-platform VST plug-in window, allowing the MX200 to function as a "hardware plug-in" within any VST-compatible workstation environment. This unique USB plug-in feature allows MX200 users to easily add legendary Lexicon effects to their computer-based recordings within the graphical interface that appears in the recording application like a plug-in, with full automation and recall features. Now software-based recording engineers can enjoy the renowned Lexicon reverbs and effects.
In live performance settings, the tactile senses will be satisfied as well, with the MX200's intuitive front panel design that indicates which two effects are active and provides independent control areas for each 24-bit processor. Three control knobs for each processor offer instant, precise and meaningful control over the most critical parameters for each effect. Users can choose two effects simultaneously in one of four routing modes: mono parallel; mono sum-to-stereo; stereo serial; or stereo parallel. Other front panel controls include input level, effects mix, balance, audition (preview mode), tap tempo and configuration. Ninety-nine carefully-crafted factory presets offer stunning reverbs and effects, with an additional 99 programmable slots that allow the user to make custom effects from dozens of effects types including halls, chambers, plates, slap and tape-type delays, dbx dynamics algorithms, and special effects like chorus, flange, tremolo and rotary.
The MX200 brings Lexicon's world-class effects into any studio or live venue in a neat, single rack-space package, along with a unique VST user interface and convenient USB connection.
Features
- 16 legendary Lexicon reverbs
- Lexicon delays & mod effects
- dbx compressor & de-esser
- VST plug-in & editor software
- "Hardware plug-in" mode
- Dual-processor design
- 4 routing configurations
- 99 factory / 99 user programs
- S/PDIF digital inputs / outputs
- 24 bit, 44.1kHz / 48kHz
Same Day Music is an authorized dealer of
Lexicon
products.