Same Day Music is an
authorized Lexicon dealer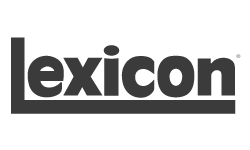 The recording professionals at Lexicon Pro know a thing or 2 about great audio -- that famed Lexicon reverb 'sound' has been on just about every hit recording since Lexicon invented digital reverb more than 30 years ago. So when they set out to bring that sound home -- they got truly inspired.
The Complete System
Nothing is more frustrating than buying a 'recording system,' only to find out that you need a gaggle of extras just to make it all work. Omega Studio is a completely integrated computer recording system that includes the Omega 8x4x2 USB I/O Mixer, Steinberg's Cubase LE 4 audio and MIDI recording software, and Lexicon's world-class Pantheon VST Reverb plug-in. The Omega Desktop Recording Studio quite literally contains all the necessary components to transform your computer into a professional 24-bit recording studio - all in one box.
A Real Mixer
Unlike standard computer I/O boxes based on a patch bay concept, the Lexicon Omega Studio is designed and built around the same paradigm as large-format recording consoles. An 8-input, 4-Bus, 2-output USB I/O mixer with inserts, instrument input, MIDI I/O and complete metering and monitoring functions gives you the freedom to record up to 4 tracks at once and mix without the need for additional mixing hardware.
Two dbx Silver Series mic preamps with 48V phantom power provide a pristine front end for high-end condenser or more common dynamic microphones, insuring premium sound quality from the first take to the last. TRS insert points allow you to plug in your favorite dynamic processors before the signal reaches 1 of the 4 busses, where 24-bit converters transform the analog signal into a digital masterpiece.
Four servo-balanced TRS line inputs with up to +22dBu input levels let you hook up everything from keyboards to guitar preamps, including high-output professional gear. Stereo digital inputs are available via SPDIF jacks, and an additional high-impedance instrument input is included on the front panel for easy access to guitars and basses.
Finally, a fully opto-isolated MIDI input to ensures that there is no annoying ground loop hum or MIDI talk-through noise common with many I/O boxes and sound cards; MIDI output has rock-solid synchronization to USB frame rate to support applications requiring critical sync.
The Omega I/O mixer also features channel peak indicators for each analog input as well as an assignable bargraph meter for the 4 busses. By monitoring the signal before the A/D converters, clipping and distortion can be averted, unlike software-only level monitoring that can miss 'overs', ruining the track.
All these gazintas and getoutzas are put together just like a big recording console, with input gain controls, four recording busses, and full monitoring features, in one attractive, portable I/O Mixer. Just plug it into your Mac or PC computer with the included USB cable, and you're instantly ready to capture the moment.
Steinberg Cubase LE
Steinberg is a leader in computer-based recording. From the first idea to complete compositions, Cubase is the virtual studio for all musicians and producers looking for a creative way to realize their projects. Cubase LE integrates seamlessly with the Omega I/O Mixer to achieve an easy-to-use, 48-track complete recording solution that includes all of the modules that you need to track, edit and mix your masterpiece.
Cubase LE Features:
- 48 audio and 64 MIDI tracks
- Professional audio editing and processing features
- Full automation of volume, pan, mute and effects
- MIDI score editor with advanced quantization and logical presets
- Supports up to 8 VST instruments
- 2 insert and 4 effect sends per channel
- VST system link and ReWire 2 compatible
Lexicon Pantheon VST Reverb Plug-In
The Lexicon name is synonymous with 'the world's best reverb.' Pantheon continues this legacy and delivers that 'Lexicon Sound used on most of today's recorded music and movies.
Pantheon Features:
- Gives recordings that legendary 'Lexicon Sound
- 35 factory presets
- 6 reverb types
- 16 editable parameters per reverb type
- Mono and stereo operation
- Advanced yet easy-to-use interface
- Floating point DSP processing
- 16 and 24-bit compatible
- Efficient CPU utilization
Same Day Music is an authorized dealer of
Lexicon
products.
System Requirements
Windows
- Pentium III 500 MHz (1.2 GHz recommended)
- Windows XP
- 128 MB RAM (512 MB recommended)
- 100 MB of available hard disk space
- EIDE/Ultra DMA 7200RPM hard disk type or better
- Available USB port (1.1 or higher)
Macintosh
- Power PC, G4 Processor (450 MHz or faster)
- Mac OS X version 10.2.8 or later
- 128 MB RAM minimum (512MB recommended)
- 20 MB available hard disk space
- 18 ms hard drive (average speed time) or faster
- QuickTime 3.0 or later
- Available USB port (1.1 or higher)
- Notes about OSX 10.4 (Tiger)
Same Day Music is an authorized dealer of
Lexicon
products.