Same Day Music is an
authorized Line 6 dealer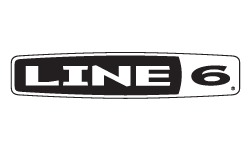 POD HD represents a giant leap forward for amp modeling. It is the only desktop multi-effect to boast 16 state-of-the-art Line 6 HD amp models, 100+ modern and vintage-styled M-class effects, and a collection of essential digital and analog ins and outs. POD HD is the most up to date version of the original, time-tested lineage of Line 6 desktop direct-recording devices.
Free v2.0 Update
Free v2.0 update from Line 6 dramatically expands the POD HD Desktop sonic palette! Get two HD amp models based on* the legendary Marshall "Plexi" 1959 Super Lead 100-watt head. Experience the world's first HD bass amp model based on* the immortal Ampeg B-15NF Portaflex (with eight incredible mic options), and warm up any guitar, bass, or vocal track with a vintage-voiced tube mic preamp that you can drop into any point in your signal chain. Get all the new HD amp models plus expanded deep-edit parameters and more - totally free!
HD Amp Modeling
HD amp models defy the accepted standard. They allow you to record with previously unachievable realism.
Creating these HD amp models was no small feat. Line 6 mixed 15 years of amp modeling experience with 2 years of research and development to revamp the modeling technology from the ground up. During that time, Line 6 hunted down 16 incredible amplifiers and - with the help of some of LA's top tube amp experts - restored each one back to peak condition. The modeling technology uses 10 times more amplifier information than before, including single-ended class A tube stages, class AB push/pull interactions, power supply behavior, and more. The result is exceptional warmth, feel, sustain and articulation for your recordings.
Tube amp fanatics have long enthused that their favorite stacks and combos aren't merely "amps" but instruments themselves, with playability equal to that of the guitar plugged into them. HD modeling takes the POD HD experience to that same exalted level, capturing the genuine playability that great guitarists demand - with nothing to mic up or isolate.
16 HD Amp Models Based On*:
- Fender Twin Reverb
- Hiwatt Custom 100 (DR103)
- Supro S6616
- Gibson EH-185
- Fender Bassman
- Fender Blackface Deluxe Reverb
- Divided by 13 JRT 9/15
- Dr. Z Route 66
- Vox AC-15
- Vox AC-30 (Top Boost)
- Marshall JTM-45 MkII
- Park 75
- Marshall JCM-800 (2204)
- Bogner Uberschall
- Mesa/Boogie Dual Rectifier
- ENGL Fireball 100
100+ M-class FX
Made famous by Line 6 M13 and M9 Stompbox Modelers, M-class FX have found their way into the hearts of many musicians. POD HD features a whopping 100+ M-class effects to craft your sound. With this wide tonal palette to play with, you can sound like anyone under the sun, or no one but you. Route up to 8 FX at once in any order and combination.
- 19 delays (including cool tube and solid-state tape echoes) - 23 modulations (including both blackface-style opto and brownface bias-modulating tremolo, phasers, choruses and pitch effects) - 17 distortions (classic stompbox distortion, to vintage fuzz, to thick metal chunk) - 26 filters (including wahs and several exclusive custom filters) - 12 compressors and EQs (including stomp comps and studio tube compression) - 12 reverbs (from surfy springs, to studio plates, to cutting-edge digital room sounds)
Unprecedented Flexibility-stunning Simplicity
Beyond the mere depth of the amp and FX models, POD HD offers flexibility to mix and match amps, effects, cabs, mics and more in multiple pre-set rigs, attainable at the touch of a button.
The engineers behind POD HD made it easy to access its deep programmability. POD HD was designed by guitarists for guitarists. Plug in and record on the fly - spend time playing rather than programming. Edit and organize all your sounds via computer with the included editor/librarian software. (Mac/PC)
POD HD connects to just about anything and everything in your studio with its stereo balanced outs, USB 2.0, S/PDIF out, 1/4-inch input and XLR input.
What You Need - Where You Need It
POD HD goes on your left, on your right, or sits in your lap. The desktop design allows you to integrate it into your studio your way. Also, Line 6 POD HD easily fits in your gig bag or back pack, making your studio as mobile as you are. The easy-to-read display and real knobs assure you of complete control in the fastest possible time. No pointing and clicking, no stopping what you're doing to walk to a rack of gear.
Same Day Music is an authorized dealer of
Line 6
products.