Same Day Music is an
authorized Mackie dealer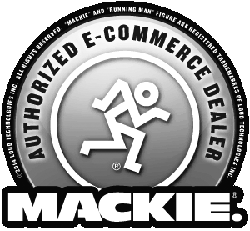 Sure it's cute, but the Mackie 1202VLZ3 is a serious professional compact mixer, with features that belie its small footprint. The ideal compact mixer for home and project studios, the 1202VLZ3 is equally at home on the road, on the stage, or in the recording studio. At Mackie, they can never leave "well enough" alone. After all, the VLZ Pros are the best-selling mixers of all time, so we knew it would be tough to improve on what many devoted owners already consider perfection... and yet they were driven to do it anyway.
While it keeps all the features and functionality of its predecessor, the Mackie 1202VLZ3 offers even greater headroom versus the original. They could have stopped right then and there, but they're obsessed with perfection. So they redesigned the Mix Bus, tweaked the EQs, and created a mixer with a highly intuitive, musical feel.
Vastly Superior XDR2 Mic Preamps
Mackie's XDR2 (Extended Dynamic Range) second-generation mic preamps are better than ever. These pres offer incredibly low noise, with individual mic pre THD below 0.0007%, and overall mixer THD less than 0.0025%. With 60dB of available gain per channel, the 1202VLZ3 can handle inputs ranging from a whisper to a scream, and can even handle hot line-level signals up to +22db, without any added coloration. You simply won't find preamps this good on any other mixer in this price range.
Equalization
Mackie invested tremendous resources optimizing the center frequencies of our 3-band Active EQs. By selecting 80Hz, 2.5kHz and 12kHz, for the Lows, Mids and Highs, respectively, they created an even more musical EQ than on previous VLZs. With up to 15dB boost/cut capability per band, VLZ3's Active EQ provides more tone-sculpting latitude than any other mixer in its class.
Professional Features
The Mackie 1202VLZ3 is packed with premium features on every mic channel: 75Hz Low-Cut filters, two Aux Sends, inserts, phantom power, constant-loudness Pan controls and Pre Fader Solo. And since you can never have too many output options, we provided a Control Room/Phones source matrix, Master Aux section with EFX to Monitor, tape outputs, a high-volume headphone amplifier and balanced XLR and TRS outputs.
Need Even More Flexibility?
Greg Mackie's mind was working overtime when he originally came up with this--instead of sending muted signals into the vacuum of space, why not do something useful with them? So, when you press the mute button on the 1202VLZ3, the signal is indeed muted--but it also appears at the ALT 3-4 output jacks and ALT 3-4 stereo bus. This is an ideal way to create additional Aux Sends and mixes for cry rooms, green rooms, or assistive listening, etc. And with a press of a button, the ALT 3-4 mix can be assigned to the Main output--which means ALT 3-4 can act very much like a mixer within a mixer.
Built Mackie Tough
All VLZ3 mixers are built tough-as-a-tank. Mackie's legendary solid-steel chassis can take the kind of abuse that would turn their competitors' flimsy boxes into twisted chunks of debris. Instead of cheap, unsealed potentiometers, they use co-molded pots, which offer substantial strain and impact relief. By design, Mackie's control knobs "ride" just above the surface of the chassis, so if something falls onto the mixer, the impact is transferred from the knobs to the chassis--not to the potentiometers or circuit board. Finally, they use thick, horizontally mounted fiberglass PC boards to eliminate the potential for damage and brace them with a shock-absorbing support structure. They've survived earthquakes, hurricanes and typhoons, so Mackie mixers can certainly handle whatever you throw at them.
Versatility
You'll find Mackie mixers everywhere you go--from video post-production facilities, to major artist tour buses, to duty as field mixers for news departments of all the major networks. Drummers and keyboardists use them to send submixes to front of house and monitor consoles. VLZ3 compact mixers are the ideal choice for any situation requiring superior audio mixing, especially where space and/or budget constraints are an issue.
Leave it to the innovative minds at Mackie to produce the 1202VLZ3, an even perfecter version of the best-sounding mixer in its class.
Same Day Music is an authorized dealer of
Mackie
products.
- low noise VLZ3 design with highest possible headroom
- 4 studio-grade XDR2(TM) Extended Dynamic Range mic preamps
- Ultra-wide 60dB gain range
- 130dB dynamic range
- +22dBu line input handling
- Extended low frequency response
- Distortion under 0.0007% (20Hz - 20kHz)
- Phantom power for studio condenser mics
- 12 high-headroom line inputs
- Advanced DC pulse transformer RF rejection
- 2 Aux sends, level, pan and PFL solo on each channel
- 2 stereo Aux returns + EFX to Monitor
- 3-Band Active EQ (80Hz, 2.5kHz, 12kHz)
- 18dB/oct. 75Hz Lo-Cut filter on Mic input channels
- ALT 3/4 stereo bus for added versatility
- Control Room/Phones source matrix
- Rack-mountable design using optional rack ears
- Sealed rotary controls to resist dust and grime
- Multi-Voltage power supply for worldwide use
- Rugged steel chassis
- Includes Tracktion 3 Music Production Software for Mac/PC
Same Day Music is an authorized dealer of
Mackie
products.