Same Day Music is an
authorized Mackie dealer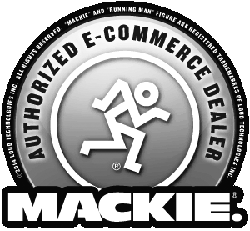 How do you improve on perfection? The Mackie 1604-VLZ Pro has been the long-running favorite of audio professionals the world over for its sound quality, ease of use, and rugged dependability. Thousands of recordings have been tracked and mixed solely on a 1604. Designing a mixer to take its place was a tremendous challenge, indeed. But our engineering team thrives on this kind of stuff, so they tackled this one head on, creating one of the best compact mixers we've ever offered: the Mackie 1604VLZ3.
While keeping the features and functionality of its predecessor, the Mackie 1604VLZ3 offers even greater headroom than the original. They could have stopped right then and there, but they're obsessed with perfection. So Mackie redesigned the Mix Bus and made a few circuitry upgrades to the EQ, giving the 1604VLZ3 a highly intuitive, more musical feel. Whether you need a live mixing board for club work, or a full-featured workhorse for home and studio recording, you owe it to yourself to check out the Mackie 1604VLZ3. You'll think it's perfect, too.
Vastly Superior XDR2 Mic Preamps
Mackie's XDR2 (Extended Dynamic Range) second-generation mic preamps are better than ever. They offer incredibly low noise, with individual mic pre THD below 0.0007%, and overall mixer THD less than 0.0025%. With 60dB of available gain per channel, the 1604VLZ3 can handle inputs ranging from a whisper to a scream, and can even handle hot line-level signals up to +22db, without any added coloration. You simply won't find preamps this good on any other mixer in this price range.
Professional Features
Don't let its size fool you. The Mackie 1604VLZ3 mixer is packed with premium features on every channel; 75Hz Low-Cut filters, four Aux Sends, inserts, phantom power, constant-loudness Pan controls, OL (overload) and signal present LEDs, sub and main mix assign switches, and assignable AFL/PFL Solo switch. And since you can never have too many output options, they provided a Control Room/Phones source matrix, Master Aux section with EFX to Monitor, tape outputs, high-volume headphone amplifier, channels 1-8 direct outs, and balanced XLR and balanced/unbalanced TRS outputs.
Three-Band Equalization with Sweepable Mids
High-quality equalization is a must for any good mixer, that's why Mackie didn't cut any corners when it came to their 3-band Active EQs--and why they include them on every channel. Tremendous resources went into optimizing the center points of the channel EQ. As a result, Mackie puts the Lows at 80Hz and the Highs at 12kHz. Midrange compensation is handled by a peaking control with a two-octave variable frequency center. This means the Mids can be swept from a low of 100Hz, all the way up to 8kHz--with a boost or cut of 15dB. This gives VLZ3 mixers practical, useful equalization, providing not only sonic enhancement and correction, but also the tone-shaping facility to actually improve the musical nature of the original signal.
Split-Monitoring
With split monitoring, you can use the first eight channels for your sound sources: vocal mics, drum mics, etc. From there, the channels manipulate the sound, but are not assigned to the output section. Instead, they're patched from the channel's DIRECT OUT jacks to the corresponding multitrack input (DIRECT OUT 1 to multitrack input 1, 2 to 2, 3 to 3, etc.). The signals will now be recorded or passed directly through the multitrack, depending on each track's record-ready status.
The outputs of the multitrack are then patched to the next eight LINE inputs on the 1604VLZ3 (multitrack out 1 to LINE input 9, 2 to 10, 3 to 11, etc.). Aha! That's why it says "TRACK 1" next to channel 9's fader, "TRACK 2" next to channel 10, and so forth. These channels (9-16) will be assigned to the mixer's output section, delivering the signals to their ultimate destination, which could be your mixdown 2-track, your control room system, or your headphones--making the 1604VLZ3 a truly powerful 8-track recording console.
Roto-WHAT?
Mackie's ingenious Rotopod VLZ adds a tremendous amount of diversity to the 1604VLZ3--it's like having several different mixers in one! The optional Rotopod is a finely crafted all-steel fixture that allows the 1604's patchbay to be rotated to one of three unique positions. With the Rotopod kit you can configure your 1604 for desktop use with the jack field facing up, or out (standard, right out of the box). For rackmount installations, the Rotopod makes it easy to access the patchbay from either the front or rear of the rack. With the Mackie Rotopod, you get to choose the patchbay position that best suits your needs.
Built Mackie Tough
Every VLZ3 mixer is built tough-as-a-tank. Mackie's legendary solid-steel chassis can take the kind of abuse that would turn their competitors' flimsy boxes into twisted chunks of debris. Instead of cheap, unsealed potentiometers, they use co-molded pots, which offer substantial strain and impact relief. By design, their control knobs "ride" just above the surface of the chassis, so if something falls onto the mixer, the impact is transferred from the knobs to the chassis--not to the potentiometers or circuit board. Finally, we use thick, horizontally mounted fiberglass PC boards to eliminate the potential for damage and brace them with a shock-absorbing support structure. They've survived earthquakes, hurricanes and typhoons, so Mackie mixers can certainly handle whatever you throw at them.
Superior Sound Quality
Above all, the 1604VLZ3 offers superb sound quality, wide dynamic range and headroom, and low noise, so you can create professional quality recordings and/or broadcast-quality soundtracks. Whether you need a high-quality 16-channel mixer for the stage, the studio, or even the road, you won't find a more perfect one than the 1604VLZ3.
Same Day Music is an authorized dealer of
Mackie
products.
Low noise VLZ3 design with highest possible headroom
16 studio-grade XDR2(TM) Extended Dynamic Range mic preamps with:
- Ultra-wide 60dB gain range
- 130dB dynamic range
- +22dBu line input handling
- Extended low frequency response
- Distortion under 0.0007% (20Hz - 20kHz)
- Phantom power for studio condenser mics
- 16 high-headroom line inputs, 16 channel inserts
- Advanced DC pulse transformer RF rejection
- 60mm long-wearing logarithmic-taper faders
- 4 Aux sends, level, pan, -20dB/Solo and Overload/Mute_LEDs on each channel
- 4 stereo Aux returns, 8 Direct outs, 4 Group/Bus outputs
- 3-band Active EQ with sweepable midrange
- 18dB/oct. 75Hz Lo-Cut filter
- Control Room/Phones multi-input source matrix
- Balanced 1/4" inputs and outputs (except inserts)
- Rack-mountable design with three physical configurations via rotating I/O pod
- Sealed rotary controls to resist dust and grime
- Multi-Voltage power supply for worldwide use
- Rugged steel chassis
- Includes Tracktion 3 Music Production Software for Mac/PC
Same Day Music is an authorized dealer of
Mackie
products.