Same Day Music Description
Mackie C200 Compact Passive PA Speaker: Compact size but massive in sound.
Mackie created a best-seller when they introduced the SRM350. The SRM350 is an active PA speaker that is both extremely compact in size but also both extremely loud and reliable regardless of that fact. The C200 is in simple terms a passive version of the SRM350. For those who already have their own amplifiers or wish to do sound installations the C200 is made just for you.
You take great components and technology gleamed from higher-end EAW research and you get the C200. Outfitted with a 10-inch speaker tuned by EAW it was provided for Mackie, this tuned speaker lets the C200 handle a complete frequency range that will go from the deepest lows to the highest highs you're getting quality only found on more expensive speakers. At a peak power handling of 500 watts normal speakers of this size would fail due to other companies using lower quality components.
Mackie has outfitted the C200 with titanium drivers and horns mounted atop a non-resonating exponential waveguide which allows the sound to be properly dispersed evenly no matter how oddly or uniquely you have to fly, floor, or stand this speaker. This even-ness allows the audience to hear this speaker with all of its volume clearly no matter where they are. A great side effect of having such a great dispersion design is that the C200 is naturally less feedback prone making this a god-send for any vocalist who needs more volume to monitor with but no bleed into their mic. An injection-molded enclosure made to withstand physical abuse and road wear rounds out the C200. With the C200 you are getting so much more speaker quality in a small size.
Same Day Music is an authorized dealer of
Mackie
products.
Mackie C200 Compact Passive SR Monitor (1x10") Product Description
Same Day Music is an
authorized Mackie dealer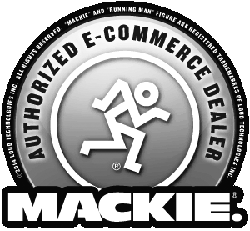 Designed for optimum performance with Mackie powered mixers and power amps, the C400 is a passive version of Mackie's popular SRM350 portable active loudspeaker. The C200 features an injection-molded composite chassis that is rigid enough to prevent unwanted vibrations and standing waves inside the cabinet, but light enough to keep any touring musician out of traction well into their 70s.
Even though it is the smallest passive speaker in Mackie's line, the C200 takes advantage of high-concept acoustic science. The crossover in the C Series is a unique Low Impedance Compensated Crossover (LICC) design. With EQ and crossover points meticulously chosen so that beam-width patterns match in both drivers, C Series loudspeakers offer natural sound at all volume levels.
The C200 has built-in flypoints for hanging, and a socket on the bottom for mounting on commercially available speaker stands. In addition, its trapezoidal shape allows it to function as a floor wedge for stage monitor applications.
The C200 can handle up to 500 watts of peak power, deliver a peak SPL of 118dB, and offers a frequency response of 59Hz to 22kHz.
Same Day Music is an authorized dealer of
Mackie
products.
Mackie C200 Technical Description
- Frequency Response (-3 dB): 89Hz - 20kHz
- Frequency Range (-10 dB): 59Hz - 22kHz
- Maximum SPL Long-term @ 1m: 118dB
- Crossover Frequency: 1800Hz
- Input Type: Speakon-style 1/4-inch TS phone jack
-Input Impedance: 8 ohms
- Power Handling: (RMS) 200 watt, (Peak) 500 watts
Power Handling at 8 ohms:
Program: 350 watts
Peak: 500 watts
Same Day Music is an authorized dealer of
Mackie
products.