Same Day Music is an
authorized Mackie dealer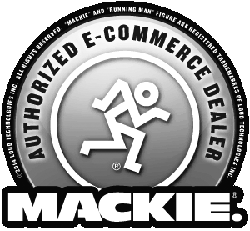 The Mackie C300z and QSC GX3 Complete PA System combines two Mackie C300z passive 12-inch speakers with the powerful QSC GX3 power amplifier. Included are all the connections you need to and fro, plus a pair of stands to raise those bad boys.
Includes:
- 2 x Mackie C300z PA Speakers
- QSC GX3 Stereo Power Amplifier
- 2 x On-Stage SS7730 Tripod Speaker Stands
- 2 x CBI Economy 16-Gauge Speakon to Speaker Cables (25 Foot)
Mackie C300z Speaker
Are you looking for renowned Mackie sound quality in a portable, lightweight package? Mackie's C300z 2-Way Portable Passive Loudspeakers put the superior clarity, wide dispersion, and legendary ergonomics of the SRM Series within reach of any serious musician, DJ, or small club. These compact-yet-loud speakers can be pole-mounted for use as a small full-range PA system, combined with subwoofers as needed, and even employed as high-quality passive floor monitors.
Features:
- Portable Precision Passive loudspeaker with 1.75-inch HF compression driver and 12-inch LF transducer
- HF compression driver mounted on a multi-celled aperture, with a constant directivity horn for room-wide 90 x 45 degree dispersion
- Precise reproduction of critical upper mid-range and high frequencies
- Tough, impact-resistant enclosure with sturdy handles, pole-mount, and integrated rigging points
- Designed for optimum performance with Mackie powered mixers and power amplifiers
- 750W peak power handling at 8 ohms
- Three setup configurations: pole mount, flyable and wedge
- Passive version of the best-selling SRM450
QSC GX3 Power Amplifier
GX Series amplifiers are ideal for professional entertainers who require maximum performance and portability on a limited budget. QSC designers, headed by Pat Quilter, have optimized output and appearance while reducing raw material cost and weight. It's all here - dramatic styling, easy hookup and adjustments, excellent audio quality and QSC reliability.
GX amplifiers deliver just the right amount of power to the most popular speakers used by entertainers. Most loudspeaker manufacturers recommend an amplifier with power output equal to the speaker's "Program (Music) Power" rating or two times (2 x) the "Continuous (RMS) Power" rating.
The GX3 is ideal for speakers in the 300 watt (Program) range. This model supplies the maximum possible power to 4 ohm and 8 ohm loads. Owners of popular 4 ohm loudspeakers (dual-woofer, two-way models and many subwoofers) will find the 700 watt (4 ohm) power of the GX5 an ideal match.
Features:
- Power levels matched to the most popular speakers used by entertainers
- Optimized for maximum real-world headroom into 4 Ohm and 8 Ohm speaker systems
- Inputs: XLR, 1/4-inch TRS and phono input connectors for compatibility with any source
- Outputs: Speakon combo accepts, 1/4-inch (TS) plugs or Speakon 2-pole and 4-pole plugs (connects 2 poles only)
- Binding posts support all other speaker wiring systems
- Minimum depth chassis (10.1 inches/257 mm) fits in compact, inexpensive effects racks
- Lightweight - less than 26 lbs (12.5 kg)
- Detented gain controls for precise setting and matching of sensitivity
- GuardRail automatically protects the amplifier and loudspeakers from damage due to temperature rise or overdrive without shutting down the show
- Front panel LEDs monitor Power, Signal and Clipping
- Subwoofer/Satellite crossover built-inGX Entertainer
Same Day Music is an authorized dealer of
Mackie
products.