Same Day Music is an
authorized Mackie dealer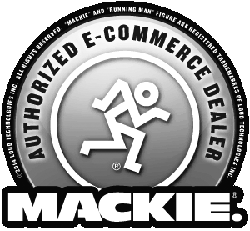 The 1600 watt Mackie HD1801 18 inch Powered Subwoofer is the ideal companion to your HD Series full-range loudspeakers, creating an immensely powerful and truly high-definition PA system that you can actually transport from gig to gig. Class-D Fast Recovery amplification makes the HD1801 ultra-efficient, effortlessly delivering massive power to the 18 inch driver that's custom-designed to handle the job. Expertly tweaked tuning filters, internal crossovers and protection circuitry are designed by EAW for the ultimate in professional performance. Take your Mackie HD (or any other) full-range system to the next level with the Mackie HD1801 Powered Subwoofer.
Features:
- 1600W of ultra-efficient Class-D Fast Recovery amplification
- 800W RMS / 1600W peak power
- 133 dB SPL max output (peak @ 1m)
- 35 Hz to 145 Hz operating range
- 18 inch high-output woofer with 4 inch voice coil
- Active electronics provide complete system optimization
- Symmetrical Linkwitz-Riley crossover (100Hz, 24dB/octave)
- Precision tuning filters for ultra-accurate bass reproduction
- Phase alignment to perfectly complement Mackie full-range HD loudspeakers
- Ported, direct-radiating design for maximum punch and low-frequency extension
- Designed and tuned by Eastern Acoustic Works (EAW)
- Dual XLR inputs, full-range and high-pass outputs for mono or stereo setups
- Level control and polarity invert switch with LED indicator
- Signal/limit and thermal LED indicators
- Integrated protection and limiting circuitry
- Rugged all-wood cabinet (15mm birch plywood)
- Pole mount receptacle for mounting full range speaker
- 12 integrated M10 flypoints
- Compact and lightweight (106 lbs / 48.1 kg)
A Massive System in a Snap
You've probably been to a large club or performance venue that has an installed PA that sounds amazing. You've probably dreamed of getting a similar system for your needs. Well, an affordable and great-sounding alternative is now available. The precision-tuned HD1801 is the perfect match. This powerful HD system features tons of protective circuitry like peak and RMS limiting and over-excursion/thermal protection to keep the sound pumping at all costs. If you need a high-output, simple PA system that compares to some of the most expensive systems out there...look no further than HD Series.
Power and Agility
The HD1801 Powered Subwoofer delivers 1600 watts of peak power using Mackie's Class-D Fast Recovery amplification. Class-D amps allow for extremely high-output in a design that is much lighter than traditional amplifiers. Normally, a sub that can push that kind of power is no fun to lug around. Okay, Mackie can't promise a fun load in, but they can say that your subs are now probably lighter than your bassist's rig. It's also really compact, which means you might even be able to carry it all by yourself... sorry roadies. Plus, their Fast Recovery design allows the amplifier to recover more quickly when pushed into clipping. This means less distortion when things get too loud.
Tweaked and Tuned
Mackie has once again called on the sonic geniuses over at EAW to make the HD1801 the most punchy, chest-pounding subwoofer in its class. The ported, direct-radiating design means super-low frequency extension that is smooth and powerful. EAW also custom specified the 18 inch driver to work in perfect harmony with the amplifier. Some of the other guys claim high wattage, but use limiters to reduce the amount of actual power that hits the speaker. That's like buying a 40-year-old single malt scotch and mixing it with Mountain Dew. Mackie would never do that to you... the woofer is designed to soak up each and every bit of power the amp puts out. A finely tuned, phase aligned and undeniably professional PA system is just a couple of patches away.
It's a Bird, It's a Plane... it's the HD1801
Let's face it. Most stages are pretty small. I mean, they want to pack in drink-buying people, not make room for on-stage tomfoolery. That's why Mackie decided to incorporate rigging points onto the HD1801. Flying subs clear up tons of floor space. You can even flip off that trademark Mackie Blue LED on the front if you want the HD1801 to blend seamlessly into the background. But, some of you are going to have to transport this guy from show to show. That's why the HD1801 embodies Mackie's Built-Like-A-Tank philosophy and is certifiably road-worthy. First off, the enclosure is built using 15mm birch. Wood is not only more durable than plastic, but delivers a more natural sound. Outward appearances do matter, so Mackie covered the HD1801 in durable textured black paint that minimizes the risk of scratching. The grill is equally robust, made using powder coated steel and flush with the enclosure to avoid denting. Throw in the fact that is one of the most compact subwoofers available and you've got an ultra-professional bass bin!
Same Day Music is an authorized dealer of
Mackie
products.
Acoustic Performance
- Frequency Response (-10 dB): 35 Hz - 145 Hz
- Frequency Response (-3 dB): 44 Hz - 95 Hz
- Max peak SPL (calculated)1: 133 dB
- Max peak SPL (measured)2: 129 dB
Transducer
- Diameter: 18.0" / 457 mm
- Voice Coil Diameter: 4.0" / 102 mm
- Diaphragm Material: Paper
- Magnet Material: Ferrite
Power Amplifier
- Rated Power: 800 watts rms, 1600 watts peak
- THD: < 0.03%
- Design: Class D
- Cooling: Active, twin thermally controlled vari-speed fans
Input/Output
- Input Type: Female XLR Balanced differential (stereo left/right)
- Input Impedance: 20 k
- Full Range Output: Male XLR Balanced (parallel with input)
- High Pass Output: Male XLR Balanced
- Output Impedance: 300
- Level Control: -6 dB to +6 dB
- Electronic Crossover
- Crossover Type: 24 dB/oct. Symmetrical Linkwitz-Riley
- Crossover Frequency: 100 Hz
Protection Features
- Over-excursion Protection: 40 Hz 24 dB/oct.
- Butterworth High Pass Filter
- Thermal Protection: Amplifier mute, auto reset, twin thermally controlled vari-speed fans
- Driver Protection: Peak/RMS Limiter
- Display LEDs: Power Light ON, Polarity Invert, Thermal, Sig/Limit, Front Power ON
AC Power Requirements
- US: 100-120 VAC, 50-60 Hz, 300 watts
- Europe: 220-240 VAC, 50-60 Hz, 300 watts
- AC Connector: 3-pin IEC 250 VAC, 15 A male
Construction Features
- Basic Design: Rectangular
- Material: 15 mm exterior grade premium birch plywood
- Finish: High durability black paint
- Handles: One on each side
- Grille: Powder-coated galvanized steel
- Fly Points: Twelve M10 x 1.5 mm
Physical Properties
- Height: 23.0" / 584 mm
- Width: 23.0"/ 584 mm
- Depth: 25.8"/ 655 mm
- Weight: 106 lb / 48.1 kg
Disclaimer
Since we are always striving to make our products better by incorporating new and improved materials, components, and manufacturing methods, we reserve the right to change these specifications at any time without notice. "Mackie" and the "Running Man" figure are registered trademarks of LOUD Technologies Inc. All other brand names mentioned are trademarks or registered trademarks of their respective holders, and are hereby acknowledged.
Same Day Music is an authorized dealer of
Mackie
products.