Same Day Music is an
authorized Mackie dealer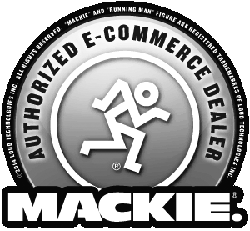 The high-resolution HR824mk2 active studio reference monitor sounds as smooth as it looks. The Zero Edge Baffle minimizes diffraction for a crystal clear image of your mix, and controls sound waves for wide, even dispersion. The rear-firing, mass-loaded passive radiator ensures tight, detailed bass extension, down to 35Hz. And thanks to remarkably linear frequency response, you always get accurate mix translation. Acoustic Space, LF roll-off and HF controls let you tailor the sound to suit your space-and your taste. With all this and more, the HR824mk2 turns your studio's sweet spot into a full-on sweet zone.
Features
- High-resolution Active studio reference monitor
- Ultra-linear frequency response for accurate mix translation
- 8.75 in. high-precision, low-distortion LF transducer
- 1 in. titanium dome, ferrofluid cooled tweeter
- Optimized Waveguide for wide, even sweet zone
- Twin FR Series amps -- 150W for LF / 100W for HF
- Cast aluminum Zero Edge Baffle minimizes diffraction
- Full internal damping eliminates midrange artifacts
- Onboard passive radiator extends bass response to 35Hz
- Acoustic Space, LF roll-off, and HF controls
- Balanced XLR, TRS, and unbalanced RCA inputs
- OmniMount ready for easy wall/ceiling placement
- THX pm3 certified for surround sound applications
- Perfect for High Definition audio, cinema and gaming systems
History of Mackie Studio Monitors
Up until the mid '90s, there was no such thing as an affordable professional studio monitor. Even as more people began recording in homes and project studios, great sounding studio monitors remained cost-prohibitive. Home and project recordists resorted to using hi-fi speakers-some even cobbled together their own monitors using parts from consumer speakers and the local electronics store-with less than stellar results. Mackie didn't think this was fair-why should great sound be reserved for only those with a fat wallet?
Mackie decided it was time to level the playback field. Their audio gurus got to work, combining their hard-won expertise to design a monitor that would at last make great sound accessible to the masses. After many long days and late nights, the HR824 Active studio reference monitor was born. With its signature active architecture and passive radiator design, the HR824 monitor delivered performance that impressed studio veterans and hobbyists alike-and was in reach of all their budgets. Soon HR824s were perched atop speaker stands in professional control rooms, project studios and bedroom studios all over the world. Following the success of the HR824, we developed the HR624, a compact version of the world-renowned original. Like its "big brother," the HR624 earned a large and loyal following, and it, too, populated a wide range of studios. With their impeccable sound, enviable reputation and affordability, the HR Series changed what people expected of studio monitors, and challenged how the competitors designed theirs. Simply put, the HR Series became the industry standard.
Since the release of the original HR Series in 1996, audio recording-and the studio environment-has changed by leaps and bounds. The greater bit depth and higher sampling rates afforded by digital audio mean recordings are more accurate than ever. Recording technology along every step of the signal chain has advanced, too, from microphones to DAWs, allowing for mixes with massive numbers of precisely captured tracks and huge amounts of processing. With these changes have come challenges for -- and expectations from -- a studio monitor.
Today's studio demands a monitor that can reproduce sound as precisely as it is recorded. The same innovation that launched the pioneering HR Series has led to the birth of just such a monitor-as. Meet the HR824mk2.
Performance Evaluation
The Mackie HR824mk2 high-resolution active studio reference monitors represent the evolution of revolutionary thinking. Mackie's engineers, joined by audio gurus from EAW, worked hard to conceive of a way to preserve the all-important character of the original HR, while delivering performance-as well as appearance-that's better than ever. And even moreso than the original HR824, the HR824mk2 and HR624mk2 are part of the same family, true siblings in design and sound. Sharing the same engineering, they are created to work together, whether in surround systems, or as part of complementary monitoring setups in different sized rooms.
Mackie HR824mk2: Featuring Zero Edge Baffle
The one-piece cast aluminum Zero Edge Baffle features precisely engineered curvature that minimizes diffraction for a crystal clear image of your mix, and effectively controls sound waves so you get detailed lows, full, articulate mids, and shimmering highs. The integrated Optimized Waveguide accurately and efficiently controls dispersion characteristics of the sound on and off axis, resulting in a wide sweet spot with smooth transitions from lows to highs. More inert than a wood or plastic baffle, the Zero Edge Baffle's cast metal surface reduces surface vibrations during playback, thereby minimizing distortion to the sound's waveforms; the result is improved time-domain characteristics, which equates to dramatically enhanced depth of field.
Thanks to the design of the Zero Edge Baffle, the HRmk2's imaging is stunningly accurate, with wide, even dispersion, and three-dimensional sound, delivering a much broader sweet spot than any other studio monitor on the market-so broad, in fact, that we like to call it a sweet zone.
Passive Radiator
When you mount a loudspeaker in a box, there are two things that you can do with the radiation from the rear of the cone: use it to enhance the low-frequency performance of the speaker system (bass reflex system) or soak it up (acoustic suspension system). A bass reflex system uses the rear radiation to extend the low-frequency response; most systems provide holes (ports) in the front or back of the cabinet to release the rear wave. The HR842mk2 is a bass reflex 6th-order system. Rather than use ports, the vent takes the form of a passive radiator, a mass-loaded flat piston coupled to the air trapped within the enclosure. You can't see the passive radiator because it is located at the rear of the cabinet, behind the power amplifier assembly.
The passive radiator replaces the port found on most speaker systems. Simple ports or ducts must have sufficient surface area to prevent the velocity of the air within them from exceeding 5% of the speed of sound, which keeps the vent from becoming audible (breathing and wheezing sounds) at high signal levels. This requirement for sufficient surface area creates a design problem when using ports-finding enough space in the enclosure for them to fit.
One primary advantage of a passive radiator is that it can reproduce low frequencies with lower distortion and at a higher sound pressure level (SPL) than a simple port or duct. Mackie's unique passive radiator design uses a flat diaphragm, providing exceptional stiffness to the radiating surface. The elliptical shape of the passive radiator takes up nearly the entire surface area available on the rear of the enclosure, allowing the passive radiator to move more air than a port. And as a result of this design, Mackie HR824mk2s deliver superior bass response, with virtually no distortion.
Truly Active
The HR824mk2 monitors are a true active design, meaning they contain separate onboard amplifiers for each driver, plus onboard active crossovers and time-correction circuitry, which helps ensure highs and lows reach your ears at the same time. The HR824mk2s also have protection circuitry built in to protect from damaging input levels. With the same class A/B amplifier design as the original HR Series, the HR824mk2s retain the much-loved character of Mackie's classic monitor, and carry on the acoustic space circuitry of the classic HR824, which allows you to tune the monitors to your room.
Designed into the heart of the amplifier circuits are EQ and filter sections that allow each amplifier to be precisely factory-tuned, ensuring that what we designed in Mackie's labs is what you end up with in your studio. Before assembly, we first hand-trim the amplifiers to exactly match the amplifiers in our Golden Reference Unit. (See "Unparalleled Quality" for more on the Golden Reference Unit.) During final assembly and testing, the amplifiers are voiced to match the rest of the components in the entire monitor system; they're hand-trimmed to compensate for very slight manufacturing tolerances between the drivers. This meticulous process results in each monitor being within exacting references of the Golden Reference Unit.
Relentless in the Pursuit of Woofers/Tweeters
Each HR824mk2 monitor features a high-precision, low-distortion woofer-8.75-inch for the HR824mk2 and a 1-inch ferrofluid cooled titanium dome tweeter. An exhaustive process, the selection of the HR824mk2 drivers consumed considerable engineering resources. The Mackie team spent countless hours in their quest to find drivers that met their stringent criteria, including the ability to be manufactured in volume with virtually no variability between units, the ability to produce the desired frequency response, and the ability to meet the tight price goals that allow us to make their monitors affordable. After having rejected multiple candidates, the team eventually narrowed down the field. With further engineering input, Mackie sourced drivers that met their standards, and successfully managed to fine-tune a system that delivers unparalleled results.
Gets the Details Right
To say the folks at Mackie are detail-oriented is an understatement. They obsessed over every last detail on the HRmk2 Series--from the color and finish, to the power indicators and even the vents in the heat sink.
Cabinet Design
Mackie HR824mk2 monitors feature a wood cabinet, with custom internal bracing to increase its strength and rigidity in desired locations. To absorb internal reflections and dampen standing waves inside the cabinet, an open-cell adiabatic foam material is placed strategically inside the box. While an all-metal cabinet had been considered as a potential design strategy, in the end their design team used their ears to make their choice of cabinet material. And what they heard from an all-metal cabinet was a sound that was accurate, but overly sterile. Combining a wood cabinet with the metal Zero Edge Baffle adds that unquantifiable "bit of warmth," producing sound that's true and never lifeless.
LED Power Indicator and Overload
Mackie's LED power indicator is a tasty shade of white a cool, refreshing change from your typical red. They took care to make sure the brightness is just right, too. The light shines bright enough so you can see it just fine in a well-lit room, and in a dark environment, it won't distract or blind you. Mackie saved the red for when you re overdoing it-you'll see the scarlet HRmk2 overload LED when your input levels are too high.
Speakers
Mackie goes to elaborate lengths to ensure each HR824mk2 sounds as good as their experts intended. Each one Mackie manufactures is subject to rigorous testing and pre-screening during the production process, then calibrated and tuned with an environmentally controlled test chamber before final packaging. Mackie's Golden Reference Unit serves as the reference point for calibration; there is one of each model in the HRmk2 family. Hand-engineered in the US, the Golden Reference Unit is the "master" for HRmk2 production units--it is the final design arrived at and approved by the HRmk2 team. The Golden Reference Unit and the test chamber are calibrated as a system every few hours, to compensate for temperature and humidity variations, and the resulting measurements are used to calibrate each HRmk2 production unit. Each HRmk2 monitor is tuned to be within 1.5 dB across the entire frequency range of the Golden Reference Unit, and gets its own "birth certificate" with a chart plotting the frequency difference between it and the Golden Reference Unit. The birth certificate is then verified and signed by a Mackie Acoustic Technician.
Mackie's strict quality control means all their HRmk2s meet their published specifications, and that there is little-to-no variability between units. No matter if you get your first HRmk2 pair now and add another pair for your surround setup months later, you can be confident you have a precisely tuned system that has been designed to work in unison, and that every HRmk2 pair is a true "matched pair."
Same Day Music is an authorized dealer of
Mackie
products.