Same Day Music is an
authorized Mackie dealer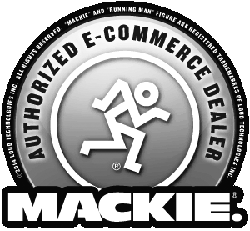 The 16-channel Mackie Onyx 1640i FireWire Recording Mixer combines the benefits of an extremely powerful computer interface with the tactile, hands-on control of a sleek premium analog mixer. Proven, professional features like 16 Onyx mic preamps and classic Perkins EQ provide unmatched sonic performance.
The 1640i allows you to send channels, aux sends, groups or master L/R signals discretely to your Mac or PC for recording. You can even return all 16 channels back to the mixer for a truly professional mixdown. Compatible out of the box with most major DAWs, and qualified for use with Pro Tools(r) M-Powered(tm) 8 via downloadable driver upgrade at Mackie's website.*
See Note below.
Features
- 16-channel premium analog mixer with integrated 24-bit/96kHz FireWire I/O
- Qualified by Mackie for use will all major DAWs, including:
-- Logic(r)
-- Sonar(tm)
-- Cubase(r)
-- Ableton(r) Live
-- Final Cut Pro(r)
-- Pro Tools M-Powered 8 (Requires $49.99 USD driver upgrade at www.mackie.com)
- Includes free download of Tracktion software
- 16 Onyx boutique quality microphone preamps
- 4-band Perkins EQ with sweepable mids on all channels
- Full 16x16 FireWire channel streaming for ultimate DAW integration
- Flexible FireWire routing including aux sends, groups and pre/post EQ assignment for all channels
- 6 aux sends with pre/post assignment and solo
- Smooth 60mm channel and master faders
- Built-in DI on first two channels for direct connection of guitars, basses, etc.
- Individual 48 volt phantom power switches on all microphone inputs
- 4-segment metering on every channel
- 4-bus architecture for flexible sub-grouping of channels
- Talkback section for use with internal or external microphone
- Planet-Earth switching power supply for worldwide use
- Rotating I/O pod for desktop or rackmount operation - rack ears included
Recording and Mixing
Send all channels, aux sends or the master L/R straight to your computer for recording. Pre/post EQ taps on every channel allow you to integrate the renowned Perkins EQ into the record path. Plus, returns from your DAW are assignable to the control room section or straight back into a channel for mix integration.
Powerful Effects Engine
With all aux sends routable to your DAW, Onyx-i allows you to use your favorite plug-in as a realtime effect. Just route an aux send to your DAW, apply the plug-in and assign your DAW outputs to the control room or to a channel strip for instant integration into the mix.
Live Recording
Live sound recording could not be simpler with Onyx-i. The ability to record individual channels either wet or dry allows for studio quality multitrack recordings for later editing and mixdown. Or simply record the main mix, allowing for immediate creation of CDs right at the gig.
Same Day Music is an authorized dealer of
Mackie
products.
Minimum System Requirements For General Use
FOR PC
- Microsoft Windows 7 32 / 64 RTM, Vista 32 / 64 RTM or XP 32 SP 2
- Pentium 4, Celeron or Athlon XP processor
- 512 MB RAM
FOR MAC
- Mac OS X 10.4.11 - 10.6.2
- G4 processor
- 512 MB RAM
Minimum System Requirements For Pro Tools M-Powered 8 Use
FOR PC
- Microsoft Windows Vista 32 SP2 or XP 32 SP 3
- 1GB RAM
FOR MAC
- Mac OS X 10.5.5 - 10.5.8
- 1GB RAM
The following computer systems have been qualified by the Mackie test department for use with all major DAW's including pro tools m-powered 8. This list does not represent the only systems that will function faultlessly and is intended to be a guide, however we cannot guarantee or support problem free system setup outside of these qualified systems.
For PC:
- HPCP7700P
- Chipset Q963
- Intel Core 2 Duo E6400 @ 2.13GHz
- 2GB RAM
- Ultra ULT40109 8 port FireWire / USB 2.0 card (VIA chipset)
FOR MAC:
- 8-core 3GHz
- Mac Pro (first generation, second revision)
- 4GB RAM
- MFG date April 2007 Power Mac G5
PowerMac (third generation, 7th revision):
- 2x 2.3 GHz
Using your Onyx-i Series Mixer with any other major DAW?
Onyx-i Series mixers are compatible with all major DAWs. This list includes (but is not limited to):
- Logic(r)
- Sonar(tm)
- Cubase(r)
- Ableton(r) Live
- Final Cut Pro(r)
- Tracktion(tm)
- Digital Performer(tm)
Register your Onyx-i mixer with Mackie and you will be given Instructions for the Mackie Universal Driver and Mackie Authorization Application that unlocks your mixer for use with Pro Tools M-Powered 8. The driver purchase allows your registered mixer to work with as many supported computers running Pro Tools M-Powered 8 as you have access to.Our 30-Day 100% Satisfaction Guarantee applies to the Mackie Onyx Mixer. Buy it, and if it isn't just right for you, return it!M-Audio Pro Tools M-Powered Recording Software cannot be returned once opened due to copyright law.
Same Day Music is an authorized dealer of
Mackie
products.